Andy Gentle – A chainsaw love affair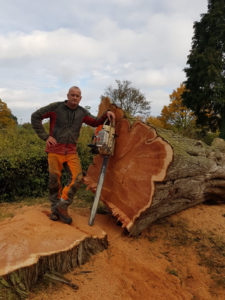 Suffolk Tree Services in Lavenham
Tucked away down a farm track in the countryside near Lavenham, is a woodyard which is the base for Andy Gentle and his company 'Suffolk Tree Services'. Andy comes from a line of men determined to succeed; his grandfather owned a successful precision engineering company in St. Albans (C.Gentle & Son) and his father was a geologist until his retirement. Both men showed determination in following their chosen path and Andy is no different.
Andy's route to Suffolk has been circuitous. He was born in Nairobi in 1966 as his father was working in Africa. The family returned to the UK when Andy was ten months old only to be taken to Cape Town two months later when his father had work in the oil industry. The family stayed until Andy was six when they moved to Kent and from there to North Wales where there were lots of trees and Andy was able to work on a hill farm. When not at school he was taught, at the of thirteen, to use a chainsaw.
He also began to climb trees to attach pulling ropes, something the farmer dared not do. Later on he was so inspired after watching some tree surgeons at work that he started his own local log round to earn some extra money. Aged seventeen he moved to Suffolk as his uncle lived near Lavenham and he became a trainee motor mechanic earning just £35 per week. To supplement his income he put up estate agents boards in his spare time. Remembering his involvement with trees, he placed an advertisement in the local paper for "Tree Surgery and Garden Maintenance". He soon got his first job and he acquired a bow saw which he used to cut down a sizeable Christmas tree which he then burnt up charging £30 for the day's work. He soon became busy at week-ends doing tree work, and the garage where he worked bought a chainsaw, something he could not afford from his motor mechanic's pay. He and the garage owner soon became pretty busy doing tree work every weekend.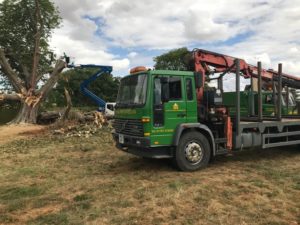 In 1988 he felt sufficiently confident to branch out on his own (excuse the pun!) and he formed Suffolk Tree Services. The business began to flourish. Back then there were not many recognised qualifications and very little in the way of health & safety requirements. Fifteen years ago he bought the Woodyard and he now employs several full time tree specialists as well as having two or three sub-contractors available. There is also a yard/log man who works three days a week.
Over time Andy has gained many qualifications for Chainsaws, Aerial Rescue, Stump Grinding, Woodchipping, Cherry Picker and First Aid to name just a few. A few years ago Andy passed a Level 3 Technicians Certificate in Arboriculture. Andy is very keen to encourage young people to become qualified and he takes on part-time students from Otley College so they can gain work experience. Students work between 150 and 200 hours under supervision. It takes two years to learn the ropes of tree climbing and five years to become competent, as well as qualified as a tree surgeon. The Otley course is two years, of which some time can be spent with Suffolk Tree Services.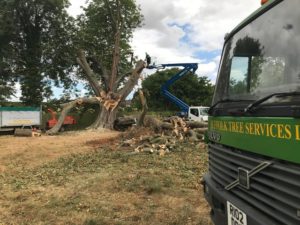 As the business has grown expensive essential equipment has been purchased. The specialist kit includes a "Cherry Picker", Stump Grinder, Wood Chippers and a tractor with a flail on the front. There is a timber lorry with a hydraulic grab. The saw mill at the yard has been out of action following the untimely death of the saw man, but it is hoped it will be in action again next year. Most of the work is within a ten to twelve mile radius of Lavenham. Seventy five percent of the work is as a result of recommendation or is repeat work for previous clients. Andy and his team have worked on our large oak tree in our Hadleigh garden. They first removed dead branches caused by another tree surgeon pruning the tree at the wrong time of year and this year they trimmed off excess new growth. All the work involved using harnesses and ropes.
Andy is a family man, Julie his wife runs the office (with a part time assistant) and they have two daughters aged 21 and 18 who have been known to also help out in the office and at the Yard! Andy is a motorbike enthusiast and regularly rides up to the Isle of Skye, where his parents retired 34 years ago. Andy's wife Julie also rides pillion and he is planning to explore North Africa on his motorbike this year with a close friend. Finally a word of warning! Chainsaws are dangerous and should only be used by those who are qualified to do so.
Suffolk Tree Services can be contacted on 01787 319200 or info@suffolktreeservices.co.uk
Article researched and written by Mark Dawson