A SUFFOLK SUCCESS STORY – JIM LAWRENCE LTD
It is reassuring to know that there are still 100% British manufacturers creating goods made entirely in Suffolk!
The Lawrence family are not new to manufacturing as Jim's father had a family business making top quality upholstered products in North East London. It supplied a lot of the furniture to the Royal Yacht "Britannia".
Jim Lawrence started his working life looking after cows and pigs at the family farm in Stoke by Nayland. However this was not profitable and in 1993 he decided to set up a forge in one of the farm buildings with a view to making a few specialist items, such as iron candlesticks, for friends. However by 1995 he was employing one person and with his wife Sheena, he made gates, railings and curtain poles. His break came when he received his first substantial order, from a local farmer, for a kilometre of park fencing.This enabled him to refurbish the farm buildings in order to be ready to expand and he took on a second worker and started selling by mail order. He was then asked by a customer if he could make the candlesticks into electric lights and this was the start of what is now the lighting side of the business and is 60/70% of turnover. There is a remarkable similarity in the way Jim started off and a business set up in the late 1940s by my cousin, once removed, Basil Thwaites, who started making motorised wheel barrows in the late 1940s with the local blacksmith, in one of his farm buildings. This became Thwaites Engineering which is one of the major manufacturers of dumpers, and again 100% British.
By 2000 Jim's business had expanded to such a degree that he knew he had to move and since most of his fifteen staff came from Hadleigh he chose to look for premises on the industrial estate where the old Erben factory was empty. He was fortunate to be able to acquire the premises and the move achieved the desired result, as the business took off, and by 2007 he was employing 50/60 staff.
Jim, and his wife Sheena, are the sole Directors, so decision making is straightforward. From the very start they made a conscious decision to sell only direct to the public and not to employ any sales staff other than those working on an average of 1,800 telephone enquiries to the sales office every week. There are no outlets, other than the very impressive showroom, which is within the Hadleigh building.
Since moving, there has been a steady growth in the business averaging about 6% a year. I would be very surprised if you have not seen a Jim Lawrence advertisement as they appear in many glossy magazines and this is their main marketing platform, together with the website, which has been a major source of orders, now accounting for some 50% of sales. Many of the products come in various guises and lampshades come in different shapes and sizes and have many different combinations of coverings. They estimate lampshades could have as many as 20,000 variations! The main product range is about 3,000 items, of which about 80% are in stock. Very occasionally, due to the handmade nature of their products, they run out of some items and in that case it will be created in the workshop to order, so that no matter what it reaches the customer within 14 days.
Different advertisements carry different telephone numbers, from which it is possible to analyse where the orders were generated. In the office the order lines are closely monitored to show the number of calls taken by individual operators and the source of the order. This is all displayed on a large screen in the telephone operator's office. If an item is in stock it will be sent out for delivery the following day.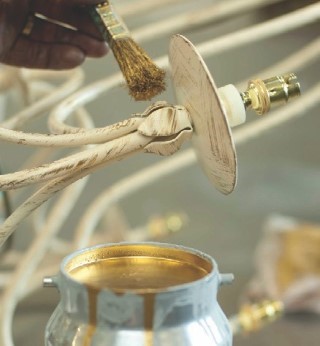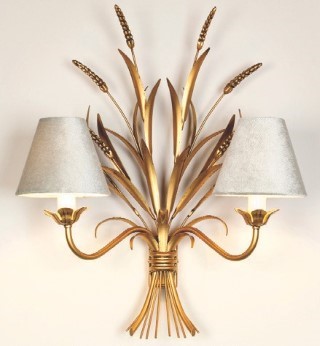 The products are all hand finished at the workshop. The 'Old Gold' paint effect is applied by hand to create the luminescent finish seen in the newly released Sussex Wall Light shown here.
It is not surprising to learn that the company has been approached by some of the major retailers wanting to sell the Jim Lawrence products. However Jim has maintained total control over all sales, and to this day you are only able to buy Jim Lawrence products directly from the company itself. By doing this Jim is able to make sure he can personally guarantee that every product they sell meets the exacting quality control standards they have set themselves and for which the brand is renowned.
The main product ideas come from Jim and Sheena, as well as customers, wanting something not in the catalogue. There are two technical draughts people in the office.
Currently there are over one hundred members of staff, both male and female. Whilst computer controlled machines do a lot of the work they still have to be overseen and kept supplied with raw materials. Soft furnishings are all hand-made, as is the fitting of lampshade covers and the wiring and fitting of switches and bulb holders etc. Most of the staff are taken on as a result of recommendations from other members of staff, and potential employees are asked to try out their possible role for a day before doing a six month apprenticeship. It was gratifying to see so many happy faces.
As with most businesses these days, computers play a vital role. Computers control most of the manufacturing processes from the precision cutting up of sheets of brass or steel, to the welding together of the frames of lampshades and the cutting up of the lampshade covers, a job originally done with a pair of scissors! Walking round the factory I noticed an unattended milling machine working away.
I have seen laser cutters slicing through inches thick steel plates at great speed, but leaving rough edges, but nonetheless still much smoother than cutting using oxy acetylene. Until my visit I had never seen brass or steel plates being cut by water jet. The plate is submersed in water and cut, by a jet of water with garnet sand which acts as the abrasive, leaving totally smooth edges. If this cutting were done other than submerged, can you imagine the mess!
The week's work is input into the computer which then details what each machine operator will do on any given day and will tell the stock controller what items need to be delivered to any manufacturing station. It will also produce a list of daily tasks for everyone in the factory.
Whilst I was researching and writing this article it was announced that the Company had won a prestigious award at The House Beautiful Awards. This was the firsttime they had entered the competition. The Gold Award was for their Boathouse Outdoor Light, in the Best Lighting category. There were more than 250 entrants in 22 categories covering homes and gardens, where they were up against companies such as John Lewis, Laura Ashley and Next to name but a few. The winning light is made of solid brass and whilst traditional in appearance incorporates an integrated LED bulb that lasts 50,000 hours.
The showroom on the Hadleigh Industrial Estate is impressive with well spread out displays of door furniture, such as door latches, brass and steel door knockers, letterbox covers etc. lamps, light fittings, a myriad of lamp shades, forged iron curtain poles, finials, brackets and rings, also made in brass, curtains, cushions and fabrics. The showroom stocks a large supply of LED bulbs. To keep parents with young children on the buying trail, there are toys and train sets to keep them amused, whilst the parents discuss their needs, and place their orders! There is a very good real coffee and tea machine. Go to www.jim-lawrence.co.uk
Mark Dawson
When writing this article I initially spent a couple of hours with Jim talking about his business and then going round the workshops. Thereafter I had a number of meetings with Cassie Rowland, Jim's Marketing Manager a very energetic and enthusiastic gofer! She was an absolute delight to deal with.