The Foragers Retreat – Michelin chef in Pebmarsh.
An interview with Carl Shillingford, Pebmarsh's Michelin chef and local forager.
These days the small picturesque village of Pebmarsh is brimming with community spirit. It has a much-loved village school, a popular community-owned pub with great food, a hairdresser, a village shop, and since 2019 a delicatessen cafe and restaurant. Foodies have been coming from miles around to The Foragers Retreat to sample dishes like Penny Bun Mushroom Gnocchi, Wild Boar with Damson Jus, Hazelnut and Medlar ice cream, Sloe Gin sorbet, and Figgy pudding served with Mulberry compote and Crab Apple Brandy sauce. Moreover the reviews have been excellent.
"This is a talented chef who can taste flavours in his head like an artist can visualise and a musician can hear." (TripAdvisor)
The team behind the Foragers are Michelin-trained chef Carl Shillingford and his wife Beth. They took over the converted stables at Le Mote Farm, after running a successful pop-up restaurant serving "wild food" at the Quay Theatre, in Sudbury. They needed a bigger and more permanent home and were soon put in touch with local farmer's son Matt Hogsburg, who was in the process of developing his farmyard and barns in Pebmarsh for more commercial and community use.
Carl trained to be a chef in France. "I worked in Michelin-starred restaurants for seventeen years in Paris, having a wonderful time. Then Michel Roux Senior, who had found me a couple of jobs in Paris, persuaded me to move to Nayland as the Head Chef of his new restaurant there. One day I went for a walk round the village on my day off and found some blackberries, so I thought I'll take them, then I found some crab apples and started picking bits and pieces and incorporating them into the menu. I've been foraging ever since, taking delicious raw wild ingredients and making a nice plate of food."
"Whatever any other chefs are doing, and whether it's fashionable or not, I haven't got a clue – I'm in my own little bubble."
Carl has been foraging in the fields, hedgerows and woods and along the deer paths of Essex and Suffolk for almost twenty years now and using his knowledge of wild ingredients he creates delicious unique dishes to his own recipes. However it is relatively recently that the practice of foraging has become a more mainstream activity; as if the English are rediscovering what was once a natural part of English life.
"The French seem to have more interest in food and ingredients generally."
"Perhaps there is a lost culture of English cooking because of rationing", says Carl. "We had hedgerows full of nuts, blackberries, rosehips, and we ate what we could find but then then we ripped out the hedgerows to make way for higher yield crops. Also we are very work-orientated – it's our Protestant work ethic. We grab a sandwich for a twenty minute lunch break at our desk whereas in France and Italy especially, they really enjoy sitting down to enjoy a meal. They take the time to enjoy the food – and to enjoy each course. We've got a lot of good food in this country, a lot of good products. The Scottish have scallops, langoustines and salmon, and we've got oysters down here in Colchester. How many people in Essex have tasted those oysters or even know they are there? We've also got so many crayfish in our rivers especially in the South East.
In France they are so proud of their products and like to boast that their regional delicacies are the best in the world. But if you think of our lamb, our beef, our pork – it's amazing."
And what about our mushrooms! Although it was extremely dry in the early part of 2019, the wet conditions in September and October brought about an explosion of mushrooms throughout the country. Instagram and Twitter were alive with amazing mushroom photos – some very rare specimens, some absolutely huge ones, and some amazing colours. For knowledgeable and confident foragers it was a bountiful harvest.
"Mushrooms just won't do as they're told. They can sit there patiently under the ground for years, decades even, and if the conditions are suddenly right for them they go for it."
"When we had that very wet period last year the mushrooms went crazy. I was getting accosted in the street and people were putting mushrooms through my window – asking "what's this?" We had questions on facebook, lots of emails, lots of people running down the street towards me and people coming into the cafe with their finds. It created such a community spirit."
"People say that they don't like mushrooms but you might only eat between one and three different mushrooms varieties in your life. There's very few mushrooms grown commercially which you can buy in supermarkets – shi-take, oyster, and the field mushroom – that's about it. The chestnut, the field, the portobello and the button are all the same mushroom – they're all field mushrooms ….just grown under different conditions."
"People come across and eat very few mushrooms in their life and that's out of 300 good edibles."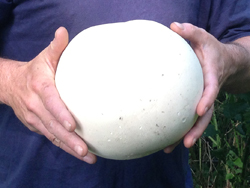 Carl introduced less well-known mushroom varieties to his guests in a form that they can recognize. With the gigantic puffball he cut it into cubes, dipped it in tempura and made a sweet and sour puffball mushroom dish. "People know sweet and sour prawn balls and sweet and sour chicken so I gave them a hook they could recognize."
At the Forager's you will also come across mushrooms such as the Penny Bun mushroom, Saffron milk cap, and even honey fungus? "Yes – you boil it.
It's a classic. People often eat honey fungus without knowing it. If you order an Italian antipasto dish which includes mushrooms, it's more than likely going to be the honey fungus. The Italians call them 'coffin nails'."
Carl goes on to talk about honey fungus being the oldest living organism in the world. Indeed the largest known organism in the world by area is a honey fungus (Armillaria ostoyae, or dark honey fungus) that spans over 2,200 acres in Malheaur National Forest, Oregon. It is estimated to be 2,400 years old and weighs 605 tons.
Other foraged favourites include rosehips, crab apples, pignuts, hogweed and wild garlic. Of all these, rosehips are the most time-consuming as it will take at least half an hour to get a teaspoon of rosehip puree. They need poaching, de-pipping and then mashing. "However we do a lovely rosehip and reishi tea with some sage, some crabapple and some honey and it's fantastic. The reishi mushroom is highly prized in Japan."
Carl also loves the Hen of the Woods mushroom which when cooked smells just like chicken stock. There is also the beefsteak mushroom which can be found on mature oak trees often taking two hundred years to appear. When cut open it resembles fresh red meat with veins running through it, and also exudes a 'blood-like' red liquid. It can be marinated overnight in red wine and cooked like a tender loin.
People also bring Carl bags of unusual produce from their allotments or orchards such as medlars, beetroot, heritage tomatoes, rare apple varieties, and damsons none of which can be found in supermarkets.
Mulberries are another speciality as there are many old mulberry trees in this area, including the one growing in the garden at Gainsborough's House in Sudbury. King James wanted to wrest the monopoly of silk-making from the French by cultivating mulberries since silk worms feed on their leaves. Over four hundred years ago the King organized for ten thousand trees to be imported from all over Europe and planted in nearly every parish by the manor house or the Church. They produced delicious dark reddish black fruit that famously stains the hands of the pickers. The only trouble was that silk worms prefer the leaves of White Mulberry tree. It may be that King James was deliberately wrongly advised by the French!
Carl was thrilled to be invited to pick mulberries in the Autumn from a tree that was dated even earlier than King James – about 1450. "I can't reveal where it is – it's a secret – however it must be one of the oldest mulberry trees in Europe. And it was still bursting with fruit – amazing."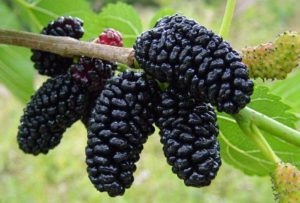 "I felt I was picking history – just how many people over the centuries and how many generations must have picked from this very tree."
Most of the meat served in The Forager's is game – venison, duck, pheasant, partridge and wild boar. It is supplied to Carl by a friend from Ardleigh who does shoots for the local farmers and is a butcher's son. He rifle shoots the venison, and has his own herd of wild boar. Carl gets beef, pork, and lamb from local Pebmarsh famers like Verity and Michael Sharpe or from Kerridges in Nayland.
"A really fantastic village butcher who I got to know from my time as a chef in Nayland. The guy is in is seventies and makes the best proper British banger I've ever tasted. It's his grandfather's recipe and he is the only one who knows the secret!"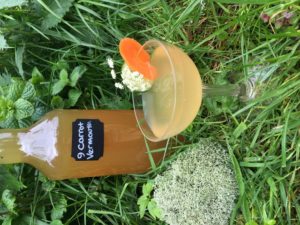 When not outside foraging, Carl is busy curing, pickling, freezing and drying his ingredients. There are huge jars of dried mushrooms and pickled products staring down from the high shelves. He also makes fruit brandies and vodkas. Recently he uncorked a bottle of Sea Wormwood vodka to which he added a bit of saffron for extra flavour. Wormwood vodka was first made in the sixteenth century in Czechoslovakia by wise women known for their magical powers and witchcraft. They extracted the thujone from the wormwood to use in their various magical potions and charms. Today it is used as a digestif and even a remedy against flatulence.
Carl also has a smokehouse where he prepares cold smoked salmon and smoked cheddar and brie using cherry, oak and pine woods.
"The best cheeses to smoke are the young cheddars and bries as they really suck up the flavour compared to the more mature cheeses."
Of course, like so many people throughout the world, Karl and Beth had to completely rethink their food business as soon as the lockdown was announced in March. "Although the restaurant had to shut, we knew we wanted to carry on feeding people" says Beth "so we contacted all our customers via facebook and what they really wanted was delicious ready meals to prepare at home." Once Carl and Beth had sorted out the packaging required for a takeaway service, they were ready to go with pies, soups, stews, puddings, Sunday Roasts with all the trimmings and artisan-style pizzas on Friday nights.
"Since our customers were no longer able to travel abroad, we took them on a round the world tour with our food instead – a different country every week.
We cooked Moroccan Lamb tagines, Persian chicken, Spanish paellas, Indian and Chinese dishes, as well as French, Italian and of course British classics, such as Steak and Kidney puddings."
Meanwhile the restaurant space has been rearranged and made into a stylish and welcoming delicatessen. It stocks a huge range of delicious ready-made dishes either frozen or ready to cook that day, as well as cakes, coffee, and handmade gifts. "We have been able to support local food businesses as we can stock their jams and jellies, cordials, biscuits, tea blends, locally brewed meads, beers and cider and wines and spirits from local vineyards such as Tuffon Hall."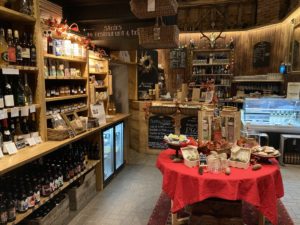 Carl and Beth have prepared all kinds of kits for people to buy as gifts for Christmas. For example you can learn to make your own sloe gin, grow your own mushrooms, and make therapeutic Reishi tea.
They are also offering to take the faff out of Christmas dinner. "People have told us that cooking Christmas day food for a few people with all the different vegetables, stuffings, sauces, gravies, puddings and so on is too much trouble so we'll do it for them. They just need to order a Christmas Dinner box, take it home and whilst it's heating up, pour themselves another glass of wine!"
"We don't know what the future holds but at least we're still doing what we've always loved doing – feeding people with delicious home-made, locally sourced food."
Foragers Opening Hours:
Thursday 10am-6.30pm, Friday 10am-late, Saturday 9am- late, Sunday 9am-4pm
The Foragers Retreat, The Courtyard, Pebmarsh, Halstead, CO9 2NU
Tel: 01787 389123
General enquiries info@theforagersretreat.co.uk
https://www.facebook.com/foragersretreat
Follow Carl https://www.instagram.com/theforagerchef/
https://www.instagram.com/theforagersretreat
Interview by Emma Stewart-Smith.