Ken Forrester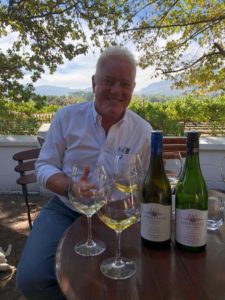 So much about Ken Forrester is larger than life.
So I'm surprised to discover his Stellenbosch wine estate hasn't gone the way of the gilded and grand contemporary winery, but is instead a place full of heart. At first I even drive right past the small, unassuming gate at the entrance.
After doubling back, and heading up the tree-lined driveway I find myself with Forrester in the courtyard of the tasting room. He laughs when I tell him about my mistake: "I built that gate and I kept it small to keep out the big busses. I want people to come and immerse themselves in the experience here."
The tinkling of a water feature keeps time with the dappled sunlight playing over bright and colourful textiles and furnishings. It's a happy, comfortable space, with views of both his famed chenin vineyards and the Helderberg Mountain off in the distance. Ken Forrester slots into this landscape like the embodiment of chenin blanc he is. Mr Chenin, as he's widely known, is as dynamic and prolific as the grape he champions.
Somewhere along the way, this tall, silver-haired and blue-eyed restaurateur turned wine industry titan became an ambassador for South Africa's most widely planted—and now one of the most celebrated—varietals.
It all started with a second chance: both for Forrester, and an old chenin blanc vineyard that was destined for the chopping block. Born in Zambia, a son of a copper mining engineer of Scottish descent, Forrester enjoyed an unfettered, bush childhood till around age 10 when his family moved to South Africa—and he went into boarding school in Krugersdorp. He followed this with a three-year course in Hotel Management at the Johannesburg Hotel School and he got his first big career break 1977, with a job at the Southern Sun.
His trajectory was briefly interrupted with a stint in the army at the Angolan border. But when he came back he went straight into the restaurant trade, and within two years had bought Gatriles in the centre of Johannesburg, and more restaurants soon followed.
A trip to the Cape in the early '90s offered him the glimpse of that second chance with the opportunity to buy Scholtzenhof Farm in Stellenbosch. Forrester is regaling me with this history as we take the short walk from the tasting area and cellar to the manor house. Opening the exterior gate, his dogs (there are at least six) curl around him looking for attention.
The Cape Dutch building with its white shoulders in a permanent shrug greets us as soon as we're through. The garden is green and graceful around it, and Forrester's eyes shine with pride as he shows me around.
"It was absolutely derelict when we bought it on public auction in 1993."
Inside in the study, he shows me the original deed to the property, which dates back to 1694. Following that second chance he moved down to the Cape with his wife Teresa (they've been married for 30 years) and their two daughters to start life as a wine farmer. The house was soon authentically restored, and then it was time to tackle the vineyards.
"Back then the grapes were all sold to co-ops to be blended. If a good wine was made, it was your grapes; any bad wines were the neighbours fault," he says smiling. But go-getter that he is, he wanted to make his own wine. It started with some sauvignon blanc which Mike Dobrovich of Mulderbosch assisted with. Then his attention turned to an old chenin vineyard, which he was being advised to pull out and to rather plant with pinotage or chardonnay. Something stopped him. "I wanted to give it a chance."
This is where the long-time collaboration and friendship began with winemaker, Martin Meinert. "Everything I know about wine I know from him, don't tell him he's already got a big head."
The pair decided to embark on a rather ambitious project together using this old bush vine block. "We wanted to make the best white wine in the world." "We did everything we thought would enhance it, but when we tasted the wine it was quite awful. We were pushing too hard, trying to force something." So in 1998 they started again. And tried again in 1999. But it was the 2000 vintage that they finally found what they were looking for. In a bottle simply labelled 'the chenin project' it caught the attention of a famed wine critic at a London trade show, whose enthusiastic approval saw it garnering international attention. This wine became the Cape icon that's known as the FMC, an acronym for 'Forrester Meinart Chenin' or as Forrester likes to tell it: F****** Magnificent Chenin.
It was all uphill for South African chenin from there. He had already co-founded the Chenin Blanc Association in 1998, and through this channel as well as his relentless drive to travel and push sales; chenin blanc and Ken Forrester Vineyards were firmly on the global map.
"Today we're a million bottle business," he says. Ken Forrester makes five different levels of chenin; from the entry level Petit range to the luxury chenins as well as a sparkling and Noble Late Harvest. Then there is the matter of the Dirty Little Secret. We've wound our way back to the cellar now. Forrester dips a thief into a barrel. "You know what this is? This is Dirty Little Secret number two." The original vintage of this natural wine was 2015, and like its predecessor is made with grapes sourced from a Piekenierskloof vineyard planted in 1965.
"You've got to have fun. I know how much fun I can have. We're not here on this planet for a long time. I think we all need to live long enough to realise how precious life is."
This last sentiment he attributes to his third chance in life. He recently ended up in ICU after a horrific mountain bike crash. Today though there's no sign of injury or of slowing down as he merrily fills up our glasses with the thief as we walk from barrel to barrel. "Next week I'm getting back on my bike."
Of course he is.
Malu Lambert, courtesy of 'Wines of South Africa'