Underground Moats & Zinc Cathedrals
Jane Mohan and the challenges of West Street Vineyard
Tragedy, boredom, and love took Jane Mohan to the West Street Vineyard.
At the end of the millennium she was riding the crest of a wave in international sales and marketing, working for IBM, Sony and Microsoft in Paris and London.
In 1995 she got married and started a family, but her world suddenly collapsed when her first child died. "That changed my whole perspective on life really. So I decided to give up work and concentrate on having a family. We moved to the country, to Danes Vale (Wethersfield, near Braintree) and then I had my three children. But then she got 'a bit bored'. "So once I'd done the pigs, done the house up, re-done the kitchen, all the rest of it. I'd always loved wine, and I finally did something about it and studied viticulture and Oenology at Plumpton in Sussex."
Jane is the kind of person who doesn't let apparent obstacles get in the way of what she wants. "When I started this business" she says "my business plan was really simple. What's one of life's greatest pleasures? Great food and wine, and doing something you love."
In 2009 she and her finance CEO husband Stephen, bought a 6 acre plot wedged between the Blackwater river and West Street, the main thoroughfare in Coggeshall.
"There were 600 vines planted here in the early 1970s, owned by four families. Quite ahead of their time really. The whole place was in need of a lot of love and care and the rest of the plot was weeds."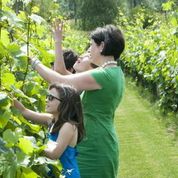 The plan was always to get planning permission for a restaurant. The size of the plot made earning a living from the vines alone almost impossible, especially after their first harvest. "We were still living at Danes Vale, coming here every week, to look after the 600 vines, and we bottled this first harvest. I don't think we had more than two sips – it was no good! And Steven said "Oh my God, what are we doing to do now?" As Steven already knew, his wife was resourceful. "I found a man on Google from the English Vodka company. He distilled the whole lot into brandy. We paid the duty on it which was quite a lot and we sold it here. We made about 50 bottles. It was pure alcohol with no caramelization, no barrel fermentation, so just white."
The brandy saga wasn't the only bump in the road. Building the restaurant was a lot more work and money than they had budgeted for. "If you're going to put up quite a controversial business in a medieval village, which essentially Coggeshall is, I wanted to do it with integrity. The local tithe barn is such an incredible piece of architecture, the roof is absolutely dominant and it gave me the idea to create a 21st century barn with a beautiful zinc roof. But that was a step too far because that would have been the dominant roof that you would have seen for miles." The final result is nonetheless striking. It came in a flat-pack from Germany and took just four days to erect.
The problems came from down below. The severe hydrostatic forces created by the Blackwater river left the Mohans no choice but to build an underground moat to protect their basement. The increased expense forced them to shelve plans to build their own on-site accommodation. They have recently re-applied for planning permission, and an EU fund for bed and breakfast accommodation.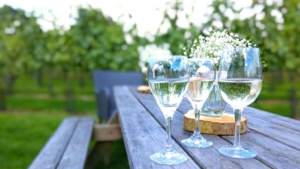 The restaurant went up in 2012, the same year Jane planted 3000 Chardonnay and Pinot Noir vines from Burgundy. "I went for those two mainly for the bubbles. You get a lot of bang for your buck. And maybe in the odd year I could make a Cuvee Noir or I could make a 100% red wine because I love Pinot Noir. You have got to do the things that you love. I have never made anything I haven't liked."
The 2013 West Street 'bubbles' she gave us was excellent, light and fresh, and with a lot of flavour. Now she needs to replace those original 600 vines, but what with? "Do I go for what other producers are doing really successfully and capitalize, or do I start doing something that no one else is doing? So maybe I go with Riesling. Riesling vines are like difficult women. They are really tricky. Riesling have got very thin skins, they are really precise in what they demand, whereas I am a bit chaotic. I think my crew think I'm bonkers, my children certainly think I'm bonkers. I need something that's a little more giving. And actually Riesling's probably not it."
Jane is being hard on herself – I would describe her as someone who thrives on her intuition, and forges ahead – the result is a restaurant that offers a diverse menu and great wine. "It was the naivest, probably craziest thing I've ever done – considering I was fired from the only other restaurant job I have ever had which was at Uni. You know how you blag your way into a job. 'Silver Service! – Of course I can do that. It was a Black tie evening. I am given my table to serve, I serve the soup, only I gave them the gravy instead. The job ended that night."
By contrast the West Street restaurant is well known for its exceptionally attentive staff, and that, Jane believes, is a big part of the secret to her success. "I actually don't think hospitality is well recognized in the UK as a career. It's something you do in between school and Uni, or when you are doing A-levels. And actually great hospitality, and you see it sometimes in Italy or Greece or Spain, is an art. I work in a commercial environment absolutely, but I want people to feel that they are coming to my house for dinner. We want you to be part of our family. So when you have your children and you bring them in to see us, or when you have your wedding anniversary you come here. It's a long-term relationship from the minute you walk through the door. Do we get it right every time? Absolutely not. Does it hurt if you get it wrong? Absolutely, inevitably and I go into the depths of despair, which winds my husband up, because he says "you've got be stronger Jane, be thicker skinned."
Jane's obsession with the smallest detail helped the restaurant make a profit for the first time in 2017 when 18,000 people came through the door. Her chefs come from the nationally renowned Colchester Institute, and her produce is almost all local. "A great team is very difficult to pull together and once you've got them it's very important to look after them and keep them. Chef changes are the kiss of death for any restaurant which is why restaurants are so tricky. People are very fickle, you're only as good as the last trend and I'm always looking at it. I think a business, any business, is like being on an escalator. And you can't get off, and you never feel you are at the top, and you don't look down either. You just need to keep looking forward. Trends change."
But at the root of everything she does is the vine, of which Jane is a student, especially on its relationship with human culture.
"Wines are living, intrinsic things. There are more genes in a grape vine than there are in you and me. There's 30,000 in a grape, and only 18,000 in a human being. Plants can't move!" "We went to Greece where they've been making wine for 3500 years, and you feel quite humble. Mankind has been trying to get better and better. And we are just one tiny element in this. With all the turmoil going on in Syria there is still one man trying to make his wine there with a war going on."
There appears to be a similar obsession in East Anglia where the postcode of CM3 boasts more vines than any other in Britain, including the traditional wine regions of Sussex and Kent. But getting your business off the ground is not easy. "Wine is about fame and celebrity, a bit like handbags sadly, and that's how our culture is," warns Jane "It doesn't matter if you are in 'I'm a celebrity get me out of here' or you are in wine, once you've established your reputation and people think 'I must have that' half the battle is won."
The challenge now for Jane is to leverage her success. Recently she has been working with Braintree District Council, on the 'Grape and Grain' trail which includes seven vineyards, nine breweries, and a distillery in the Braintree district – please visit www.braintree.gov.uk. Since 2016 she has also hosted a 'food and drink festival' here which started out as a 'thank-you' to the producers who feed her business. That business is thriving, and that celebrated East Anglian weather has helped. "Harvest is normally October – in 2018 it was the third week of September, the earliest it's been on record. It's actually good. We had the 'Beast from the East' which killed the bugs, We've got this new fruit fly called Dropsophila from Japan. It started off with cherries and has spread to grapes. It's got one of the fastest reproduction times of any insect, you can get a new generation in 10 days."
Before we finish, Jane reminds me of why Essex is such a singular county. "Apart from Cornwall we've got the longest coastline of any county in the country. You've got all of your amazing rivers. The Stour, the Blackwater, the Colne. The Mayflower having gone from Harwich. The president of Harvard came from Coggeshall. If you measure Essex in terms of entrepreneurs we have more than any other county. We are really entrepreneurial in the way we think and the way we do things. We have values – work hard, play hard." Go to West Street and find out what she means!!