BREWING IN EAST ANGLIA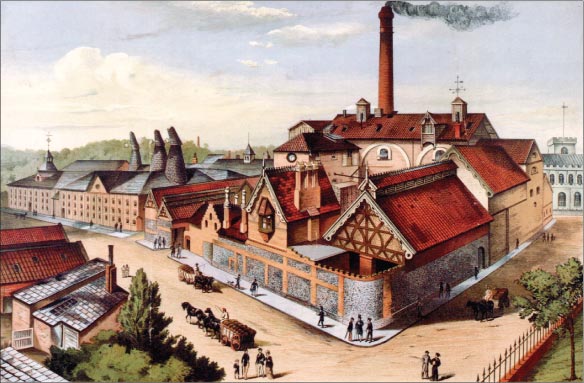 Old picture of Westgate Brewery.
I first thought of writing an article on this subject about three years ago, and at that time I hoped that Greene King might have enough information to enable me to do so. I attended the 2009 Greene King AGM, held at the Rowley Mile Racecourse, and established contact through the Company Secretary and eventually managed to set up a meeting in May last year. When I visited the brewery in Bury St Edmunds, the Operations Director, Steve Magnall, (now Deputy Managing Director of the brewing division) and their Head Brewer, John Bexon, did their best to point me in the right direction, having given me a conducted tour of the brewery. However, there seemed to be a scarcity of collated information, so I set about trying to find out the history of brewing in East Anglia.
I soon discovered that in the last one hundred years the counties of Essex, Suffolk and Norfolk had between them nearly three hundred breweries. I therefore decided to narrow the area to be covered by my article to the towns and villages within the CSCA's area, only to discover that there had been thirty-seven breweries, which suggests that our area was a thirsty one! Many pubs had a brewery at the back, supplying ale just for their own consumption. Clearly, there were still too many brewers to write about, so I have limited this article to those that I found most interesting and relevant. However, for the record, the following villages in the CSCA area, in addition to those mentioned later in this article, had breweries in Essex: Finchingfield, Gestingthorpe, Pentlow, Sible Hedingham, Wakes Colne and Wethersfield and in Suffolk: Clare, Glemsford, Great Cornard and Stoke by Clare.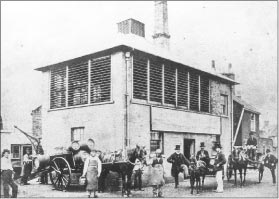 Horse and Dray in the 1800's outside Adnams Brewery, Southwold.
The CSCA area straddles the Essex / Suffolk border. In Essex, it is worth mentioning the White Horse Brewery at Ballingdon, owned by the Mauldon family and founded by a Mrs Morgan around 1793. The brewery was at the White Horse Inn in Ballingdon Street. The Inn occupied a building which had previously been known as Porter's, which had extensive gardens and orchards. The brewery flourished and the family soon owned over twenty-five pubs in the Sudbury area. A fire destroyed most of the premises in 1900. The brewery was rebuilt by Grimwood & Sons of Sudbury, with a handsome new office facing the street alongside the Inn. The business was acquired by Greene King in 1958, along with 26 houses and one off-licence. The brewery was demolished, but the office buildings remain standing (Talas House, 47/48 Ballingdon Street), and are opposite the Strawberry Stores. The Anchor in Friars Street was a Mauldon pub, and the name was still visible in the frosted glass windows, until the pub became redundant and the windows were covered over last year.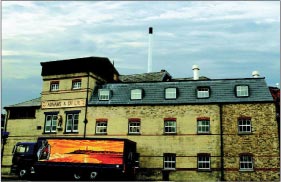 Adnams Brewery.
In December 1982, Peter Mauldon, the great-grandson of the original founder, set up a microbrewery on the Chilton Industrial Estate which in 2000 produced 1,200 barrels of beer. The business was bought in March 2000 by Steve Sims and now produces 2,500 barrels. Another small local brewery is Nethergate. The brewery was started by Dick Burge and his brewer, Ian Hornsey, in Clare in 1986. In 2005 it moved to larger premises at The Street, Pentlow. In 2010 the business was bought by Rob Flanagan, Mike Atkinson, Mark Holmes and Paul Knights, three of whom had worked for Adnams. The Head Brewer is Tom Knox. Their most well-known beer is Old Growler. This is a very dark beer almost like a stout but which is known as Porter (Beer). They also brew various other beer styles and various Bitters. Current production is 5,500 barrels a year. There is another microbrewery, which I suspect is unknown to many people, and this is The Mill Green Brewery, in the grounds of The White Horse pub at Edwardstone. It was started in 2008 by John Norton, and his son Tom, who is the brewer, and Ian Robinson. It is an eco-friendly brewery as it uses solar panels and a wood boiler to produce most of the heat. The brewery produces five permanent beers, of which Mawkin Mild, a very dark traditional beer, loved by the farm workers, is best known. They also brew seasonal specials, and they sell mainly to The White Horse and some other local pubs. They brew 350 barrels a year.
Sudbury is recorded as having had ten breweries in the period 1890 to 2004. There was once a brewery behind the Black Boy Hotel on Market Hill, but this closed in 1891. Another familiar name was Oliver Brothers, who owned the Sudbury Brewery in Cornard Street, which was started in 1873. The original buildings were quite substantial with their own railway siding. Much of the brewery was rebuilt in 1902. They advertised themselves as Brewers and Wine and Spirit Merchants of Sudbury and Bury St Edmunds. In 1919 it was acquired by Greene King, in which the Oliver family already had an interest, together with 51 pubs. The brewery closed in 1932 at which time it is recorded as producing 10,829 barrels of beer, but the Olivers were to play a continuing role in the future.
Long Melford had five breweries, most of which closed in the late 1800s; however, it is worth noting the Cock & Bell in Hall Street, owned by George Frederick Grice, and which was acquired by Ward & Son of Foxearth in 1920. Ward's was founded as a beer retailer by George Ward in 1848, and he turned his hand to brewing in 1878. It was registered as a private company in 1919 and was purchased by Charringtons (later Bass Charrington) in 1957, with thirty-one tied houses. The business was repurchased by the Ward family in 1960 but it proved not to be viable and the brewery, was demolished in 1962. The brewery and the workers' houses made up most of the village of Foxearth.
Halstead had four breweries, two of which are worth mentioning. The Halstead Brewery in Trinity Street, founded in 1859 by Charles Stanton Gray of the Chelmsford Brewery and acquired by a Thomas Francis Adams in 1876, was sold to a subsidiary of Fremlins in 1939, along with forty-six pubs. The brewery has since been demolished. The other name, until relatively recently still around, was G E Cook & Sons Ltd. They owned the Tidings Hill Brewery, founded in 1885, and the Griffin in Parsonage Lane. A brewery was built in 1908. Brewing at the Griffin ceased in 1913 and at Tidings Hill in 1974. On display in Halstead is the steam heated and coal fired, 700 gallon, boiling copper once used in this brewery.
The Thatcher's Arms in Mount Bures had a home brew house owned by Anne Downs, but sold to Greene King in 1892. However, records show that there was a beerhouse licensed to a Mary Wood in the village from 1601; one of the earliest references to a beerhouse I have discovered. Likewise, Bures St Mary had its own brewer, a John Death, until 1922. Bures Mill had a brew house, which still exists as a building, which supplied beer exclusively for those working at the mill.
In 2011, the names that stand out as our regional brewers are of course, Greene King and Adnams. I think a brief synopsis of their histories is worthwhile.
Records show that there was brewing in Bury St Edmunds in 1086 and that the Monks at the Abbey were allowed 8 pints of ale a day, and this increased to 12 if they were ill! In 1200 the Cathedral was built, and by 1400 there were taverns and alehouses that were open to the public.
It is recorded that in 1535 Thomas Cromwell visited Bury and found much drinking and debauchery. The monks at the Abbey were up to no good and the word chastity was not in their vocabulary! In 1608 there was a great fire which destroyed many of the Inns and Taverns in the town.
In 1799 Benjamin Greene came to Bury, aged 19, having just qualified as a brewer with Whitbread's in London. A year later he, together with William Buck, bought the Wright's Brewery and renamed it The Westgate Brewery. Benjamin Greene married a Catherine Smith and produced 13 children of which 8 survived. By 1836 Benjamin had grown tired of Bury and brewing, and set off to run a newspaper business and invest in plantations in the West Indies, leaving behind his third son, Edward, to run the brewery. In the same year, Fred King opened the St Edmunds Brewery, formerly Maulkins Maltings. This was close to the Westgate Brewery.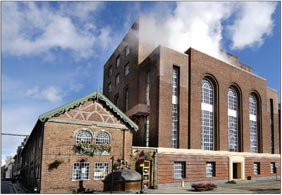 Westgate Brewery, Bury St. Edmunds.
In 1838 Edward Greene bought out his father. At the time it was only brewing 2,000 barrels a year. In 1886 the Greenes and Kings decided to amalgamate, and in 1887 Greene King was formed, capitalised at £555,000, giving scope for growth. Tangible assets amounted to £360,000. The brewery was managed by Edward Lake and was obviously doing well as dividends were between eight and ten percent. In 1887 there were 148 tied houses and this grew to 389 at its peak pre-1914. Greene King shares were first publicly quoted in 1927.
Colonel Basil Oliver, whose business had been taken over by Greene King in 1919, became head brewer and joint managing director of Greene King in the mid 1930s and during WWII the Colonel's daughter, Margaret, became Head Brewer and there was a descendant of the Oliver family on the board until the 1980s.
In 1961 Wells & Winch of Biggleswade, was purchased along with 287 inns. This acquisition greatly strengthened Greene King's presence in the trade and made it a more significant player and hence helped it remain independent. To this end much credit must go to General Sir Miles Dempsey who proved very adept at repelling the predatory brewers during the 1960s. General Dempsey had been brought onto the Board in 1953 when he was Chairman of Simonds, the Reading Brewers. Simonds had themselves taken over six breweries after 1945 and Dempsey was highly regarded in the industry. General Dempsey was helped by Sir Edward Greene and the other younger Directors including John Bridge, father of the present Chairman, Timothy Bridge. The latter had worked in Fine Fare's marketing division, as a management trainee, before running Rayments Brewery, a subsidiary of Greene King, in the mid 1970s. He had joined Greene King in 1970. Timothy Bridge traces his family connection to the brewery back to Fred King whose grand-daughter Marion married Walter Bridge and their son was (Walter) John Bridge. He was a Director from 1948 and was Managing Director from 1969 to 1983, as well as Chairman from 1979 to 1989. His predecessor, as Chairman, was Sir Hugh Carleton Greene who had been appointed a Director in 1964 and was Chairman from 1971 to 1978. He was also Director-General of the BBC from 1960 to 1969. His brother was the well-known author Graham Greene.
During the 1960s the company fought to remain independent and emerged in the 1970s as one of the dozen largest UK brewers. Since then, the company has been acquisitive, buying the Magic Pub Company in 1996, Morlands of Abingdon in 1999; Old English Inns in 2001 and Morrells of Oxford in 2002, taking the number of pubs to over 1,700. In 2004 it acquired a further 432 pubs from the Laurels Pub Company and in 2005 it bought Ridleys for £45m., a family run business, with a brewery at Hartford End near Chelmsford. The brewery was built in 1842, and the River Chelmer had originally provided both the power and water to run the brewery. This acquisition added a further 73 pubs to the Greene King portfolio, but the brewery was closed.
Another acquisition in 2005 was the Belhaven Brewery in Dunbar, Scotland. This brewery can be traced back to 1719 when a John Johnstone took over and started commercial brewing. The Johnstone family were succeeded by the Dudgeons in 1815. The brewery then traded as Dudgeons. In 1876 Ellis Dudgeon was succeeded by his son-in-law, Alexander Hunter, who met an untimely death when he was killed by bits of a disintegrating flywheel at the West Barn Maltings. He was succeeded by his son Ellis Dudgeon Hunter.
The railways arrived in Dunbar in 1846, opening up Dunbar to outside competition, but also giving scope for wider sales. At about this time, the brewery started diversifying into malting whilst still producing beer, and this enabled the brewery to survive an amalgamation or even closure, as happened to many of the smaller Scottish breweries. During the two World Wars, Dudgeons supplied beer to the military with a notable customer Belhaven Beers. After WWII, Sandy Dudgeon Hunter (son of Ellis) spearheaded the development of some award winning ales with a Belhaven label. In 1972 family ownership came to an end, but this heralded a twenty year period of growth. However in 1989 the business was sold to Control Securities, which in 1992/3 was seriously affected by the collapse of the Bank of Credit & Commerce International. A syndicate of banks then allowed the business to continue to trade and in 1993 there was a management buyout, through a newly formed company Belhaven Holdings Ltd. There followed a London Stock Market floatation in 1996. Belhaven was then bought by Greene King in 2005 for £254m.
In 2006 Hardys & Hansons of Kimberley in Nottinghamshire was acquired for £270m. It was the last independent brewery in Nottinghamshire and was the result of a merger of Hardys, who had taken over a
brewery owned by a Samuel Robinson in 1857, and Hansons, who had built a brewery in 1847. These two companies had merged in 1930. Greene King transferred the brewing to Bury St Edmunds.
In January this year Greene King acquired the Blackburn based pub/restaurant group, Cloverleaf, at a cost of £56m. This added another twelve pubs in the North and Midlands, which offer a "carvery" style food. This latest addition joins the Loch Fyne seafood restaurant chain, which was purchased for £68m in 2007. Greene King also own the Old English Inns pub hotels, as well as the Hungry Horse chain.
Today there are almost 2,500 tied houses, and the Company brews some 500k barrels of beer per annum. The Company had a stock market value of £1,038m on 31st December 2010.
Records show that Southwold may have the longest brewing tradition of anywhere in England. It is recorded that in 1345 a Johanna de Corby and seventeen other "ale wives" from Southwold were charged with breaking the law for mis-selling ale. Her cheating continued for at least twenty years at her alehouse, which predated "The Old Swan." Her husband was the baker and he sold underweight loaves and was regularly before magistrates! In medieval times this pub became known as The Swan, but was destroyed along with most of the town including The Town Hall, the market place, the prison, shops, granaries and warehouses in a fire in 1659. Before the fire there were over 2,000 inhabitants, but three hundred people were made homeless and many of these left after their houses were burned, and by 1750 the number had dropped to 666. The Swan was rebuilt but the brewing activity was moved away from the inn to the present site behind the Swan Yard. During the 1700s the business was owned by the Thompson family. In 1818 The Swan was purchased by Thomas Bokenham who overstretched his finances and after a few years had to sell the brewhouse to a local maltster, William Crisp, for £350. The brewery flourished under Crisp who died in 1844, when it was sold. It then passed through a number of owners before George and Ernest Adnams, with the aid of their father, George, bought the Sole Bay Brewery in 1872. Father George came from the Eagle Brewery, Speenhamland, near Newbury, where the family traded as James Adnams and Sons. By 1880 George had found Suffolk to be a lonely place and departed to South Africa for a career in prospecting for gold and diamonds, in which he failed, but he came to an untimely end when returning drunk to his boat late one night, only to fall off a gang plank into the Zambezi and be eaten by a crocodile! His death certificate records that this was how he met his end! In 1890 Ernest Adnams and the head brewer, Thomas Sargeant, signed the first Memorandum of Association establishing Adnams & Company Ltd.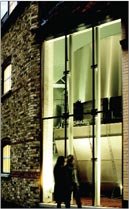 Brewery glass panel.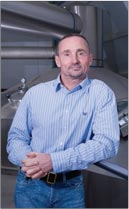 Jonathan Adnams.
In 1902 Jack and Pierse Loftus acquired a stake in the business through their stepfather, Maurice Lindsay Coates. Coates was a Northern Irish citizen whose family were heavily involved in the linen industry, and several members of his family were Lord Mayors of Belfast. He may well have been disowned by his family for marrying a Catholic. Pierse had trained at Morgan's of Norwich in 1895, and on qualifying as a Brewer he worked in breweries in Denmark and Berlin before venturing to South Africa, where he worked under Head Brewer, Paul Adnams, at the Castle Brewery in Johannesburg. Later he moved to another of their breweries in Natal, where he worked under the Head Brewer Tom Adnams, who advised him of an opportunity at Southwold, where his cousin, Ernest, needed a partner who could inject some capital into the expanding business. In a deal involving the acquisition of 49% of the equity of the Company, Pierse Loftus became the dominant member of the Company. Having acquired a stake in the business, Pierse Loftus ran the brewery, but it did not pay a dividend until after the First World War. He became Chairman in 1912, when Ernest Adnams became ill and died the following year. Pierse was instrumental in acquiring a number of small breweries. First was C J Fisher & Co of Eye in 1904; then, in 1922, Edward Rope & Co of Orford; and, in 1924, Flintham Hall & Co Ltd of Aldeburgh. By 1932 he felt the time had come to enter politics, and he was elected MP for Lowestoft that year. The company was then run by two company secretaries: Richard F B Colling, whose father owned the Chard Steam Brewery Company, and came with money to invest in 1890 and died in office in 1942; and his successor, Edward G Parke, who joined the company in 1888, and who died in harness in 1958 aged 84, after 70 years service. Pierse Loftus remained as Chairman until his death in 1956, and was succeeded by Bertie Adnams, the second generation, who was appointed to the Board in 1920 and became Chairman in 1956, retiring in 1967.
Nico Loftus, Pierse's son, was elected to the Board in 1944, and seems to have taken over running everything, apart from finance. By 1953 the business had expanded and had won awards in Brussels and at the Brewers Exhibition. During the 1960s Adnams was the subject of takeover rumours, but succeeded in remaining independent. In 1963 Nico Loftus was killed in a car accident, and this led to John Adair Adnams, the third generation of the Adnams family, becoming Managing Director, a position he held until 1973. In 1967 John Lee became Chairman. Prior to this he had been the Company auditor, having joined in 1945 and became Company Secretary in 1949, joining the Board in 1953 and retiring in 1973, when John Adair Adnams succeeded him. He retired in 1996. Jonathan Adnams, the fourth generation of the Adnams family, joined the Company in 1975, having learnt the art of brewing at Youngs. He was appointed Managing Director of Adnams in 1996, taking over from Bernard SegraveDaly who had held the position from 1973. He was the grandson of Jack Loftus. In 2006 Jonathan Adnams became Chairman, following the retirement of Simon Loftus, who was the grandson of the original Loftus, Pierse. He had joined the Company in 1969 and was appointed a Director in 1973, and Chairman in 1996.
In what may be the first brewery in the UK to branch out into distilling, Adnams has just opened a Vodka, Gin and Whiskey distillery in the refurbished Old Copper House, part of the old Adnams Brewery.
The Company had a stock Market value of £31.4m on 31st December 2010. It runs 70 pubs and five hotels, as well as wine merchants in Southwold and Norwich, and ten Cellar and Kitchen shops. It produces 90,000 barrels of beer a year.
When writing this article I became aware of some large discrepancies in recorded dates, particularly in relation to Greene King in its formative years, so please do not tell me I am wrong as there are no definitive records!
It is clear from my research that the brewing industry went through massive changes after WWII and many familiar names such as Bass, Ind Coope, Watneys, Trumans, to name but a few, all became part of larger conglomerates. Regional brewers became a rarity and from this Greene King emerged as one of todays largest national brewers, competing with Marstons at the top of the league. Adnams remain independent, concentrating in Eastern England. It is interesting how both these brewers managed to keep members of the founding families so closely involved in the business throughout their history. I am grateful to Jeff Sechiari of The Brewery History Society for his guidance and for checking this article; to Tim Bridge, Chairman of Greene King, and Jonathan Adnams, Chairman of Adnams, for their help with this article. I am also grateful to John Bexon, Greene King's Head Brewer, for getting me under way, and Steve Magnall, now Deputy Managing Director of the brewing division of Greene King, for his support.
Mark Dawson