Unwanted Wildlife – Some Handy Hints
Before embarking on what will be my second successive article, which refers to the killing of wild creatures, it might be appropriate to offer not an apology, but a brief summary of my philosophy on this somewhat contentious subject. Man, as we all know, is the world's top predator, and nothing is going to change that situation. What is important, is that man uses that position responsibly and this, of course, is what conservation is all about.
Of the creatures mentioned in this article, three – the muntjac, grey squirrel and mink – are introduced species. Because of the damage that they cause to our indigenous fauna and flora, all these should, in my view, be considered legitimate vermin and treated as such. I don't believe that anyone would dispute the need to kill rats. All of the others can be found on our nature reserve, where they fit into the age-old pattern of predator and prey, which is one of the subjects explained to visiting schoolchildren.
Stoats, crows and magpies are obviously not welcome in our waterfowl enclosure, especially since one particular species that we keep is endangered in the wild. Likewise, rabbits and moles are recognized garden pests. Judging by the number of people who ring me and say 'How do I get rid of all the blasted rabbits / squirrels / magpies / muntjac / moles / badgers, etc?' a few helpful tips may not go amiss.
First, however, a cautionary word or two. Muntjac – even more delicious than red deer or roe – may only be shot with a rifle of 22.250 calibre or more, i.e. .22's and shotguns are illegal. If you need any practical assistance, I suggest you telephone Ray Davis (01787 372586), who is always happy to help. Badgers are protected, so how can one deter them? If you've got a large garden there's not a lot you can do, unless you can identify where they are coming in. There used to be a very effective deterrent called Renardine, now (surprise, surprise) banned by some over-zealous bureaucrat in Brussels. The old gamekeeper who virtually brought me up used to say 'Yew go pee there, bor, won't nuffink come threw', and, surprisingly, it seemed to work. Wives, girlfriends and daughters can relax however, as female pee is apparently ineffective.
Rats, which we are told outnumber the human race, are an everlasting problem. Two useful tips: one is to change the brand of Warfarin every three or four months; the other is to ensure all your bait locations are ready with fresh poison by the middle of July, i.e. before the harvest is cut and the rats seek out their winter homes.
Rats, stoats, squirrels and mink are all inquisitive by nature. Here, on what used to be the wildfowl farm, a series of tunnel traps are permanently in position. These should be placed, unbaited, along the side of a fence or building or, better still, on a narrow (6 – 8ins wide) plank or railway sleeper across a ditch or stream. You will be surprised how effective these are, but make sure that both entrances are restricted to avoid trapping larger animals.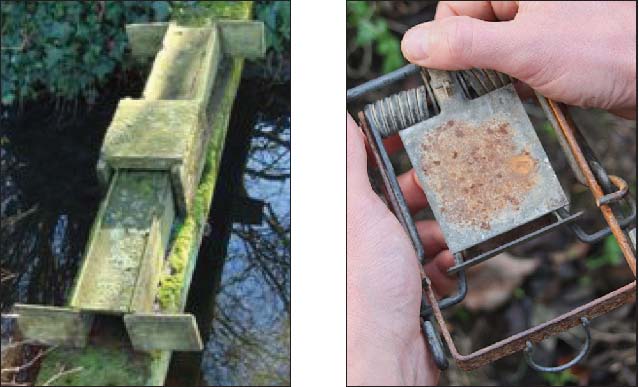 This tunnel trap accounted  for 37 squirrels and 5 rats
in 2008. Setting a rat trap.
If you see any signs of mink and are unable to deal with the situation yourself, you should contact Darren Tansley (EWT – 01621 862995) or Nick Oliver (SWT – 01787 372116). Mink, as is generally known, are an introduced species and the main cause of the catastrophic decline of the water vole. Mink rafts, developed by the Game and Wildlife Conservation Trust, are an excellent means both of detecting the presence of mink and also of trapping them. Darren and Nick both hold supplies.
Grey Squirrels, another introduced species, do immense damage to young trees, particularly hornbeam. The most effective way of killing them in the winter is for one person to poke out the dreys with a long pole and the other to stand by with a shotgun. At other times of the year they are readily controlled using cage traps baited with peanuts. For those with woodland, I recommend multi-catch traps, which should be secured onto a platform several feet off the ground to avoid them being disturbed by badgers. These can be obtained from Gamekeepa Feeds & Supplies (01827 383993).
One reason why many people find it hard to tempt rabbits into a cage trap is that they don't credit the rabbit with a brain!
Try proceeding in stages, as follows:
1. Select a rabbit dunging area (always a piece of bare ground) and put some sliced carrots nearby.
2. Only when the carrots have been taken, put the cage trap (unbaited and unset) a few feet away and replenish the carrot, again nearby.
3. Set the trap with most of the sliced carrot at the back, but with a few tempting pieces at the entrance and just outside.
4. Bingo, you've got him!
I wrote a short piece about Mr. Mole, toast of the Jacobites, in the previous Newsletter, and copies can be obtained from Mark Dawson (01787 227088). It is, however, also worth mentioning that the French have developed an explosive device which I have used in France with great success. (Typical French, it is highly dangerous, ignores all Health and Safety precepts, and is certainly not to be recommended where there are children or dogs). A safer option for those who are defeated by their moles is to contact Paul Sycamore (01787 228365) or Peter Byford (01787 248049), both professional mole-catchers.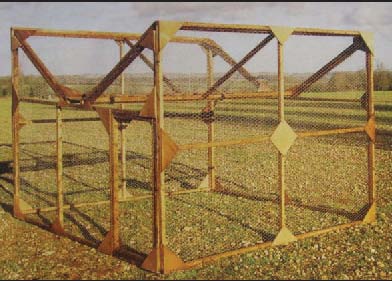 Ladder Crow Trap. Dimensions 8ft x 6ft at highest point, 4ft at lowest point.
The Rev. Babington, in his "Catalogue of the Birds of Suffolk" (1882 – 1886), refers to the magpie as 'now very rare', that being the time when all the large estates had multiple gamekeepers. Indeed, fifty years later (1932) C.
B. Ticehurst gave its status as 'virtually extinct' in East Suffolk. The Larsen trap has proved highly successful in controlling recent numbers of magpies, but I would add that, for the best results, the decoy bird should be a male – easily identified by its larger head and stronger voice.
They always used to say 'if it's a flock, they're rooks; if it's single or a pair, they're crows'. No longer! The crow population has exploded over recent years and they need to be culled. Gamekeepa Feeds & Supplies (q.v.) offer very effective ladder traps, but you won't get any change out of £300, so the answer is to make your own. To catch the first bird, I recommend using a Larsen trap, without a decoy and baited with eggs. Thereafter, always keep at least two decoy birds in the main trap.
Iain Grahame
Iain Grahame set up the Daws Hall Trust in 1988. It is visited by approximately 4,000 schoolchildren every year. Iain is an antiquarian bookseller as well as being knowledgeable on wildlife.