Historic Wallpapers and Cole & Son
Historic Wallpapers and Cole & Son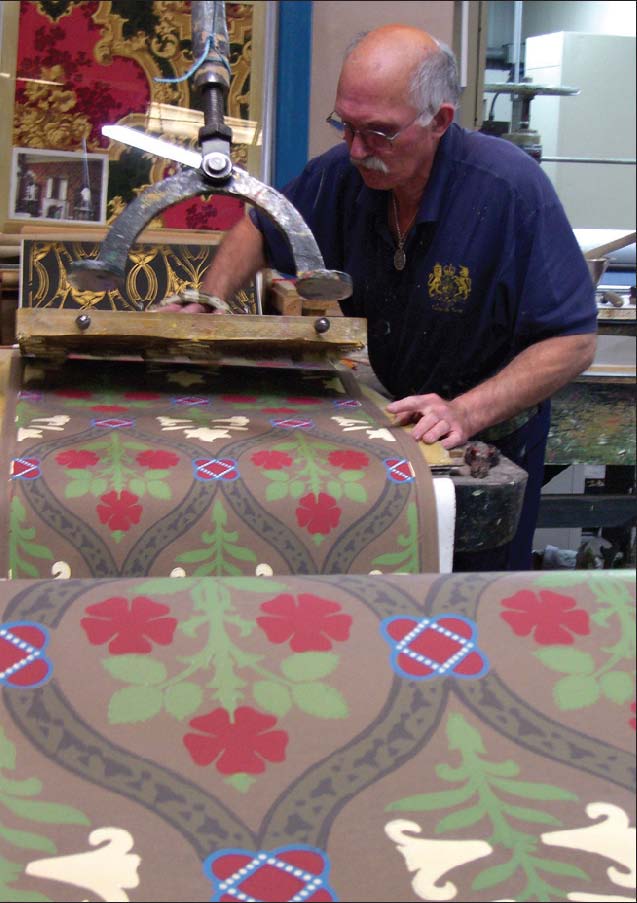 One of the last remaining hand block printers of wallpaper in the world.
After last year's article by Philip Aitkens on 'Discovering Historic Wallpaper in East Anglian Houses' it seemed an idea to give as a follow-on, Cole & Son's experience of historic wallpapers. Although the company was founded in 1873, the archive includes 3,500 wooden pattern blocks together with a huge paper archive including designs dating from the Georgian period.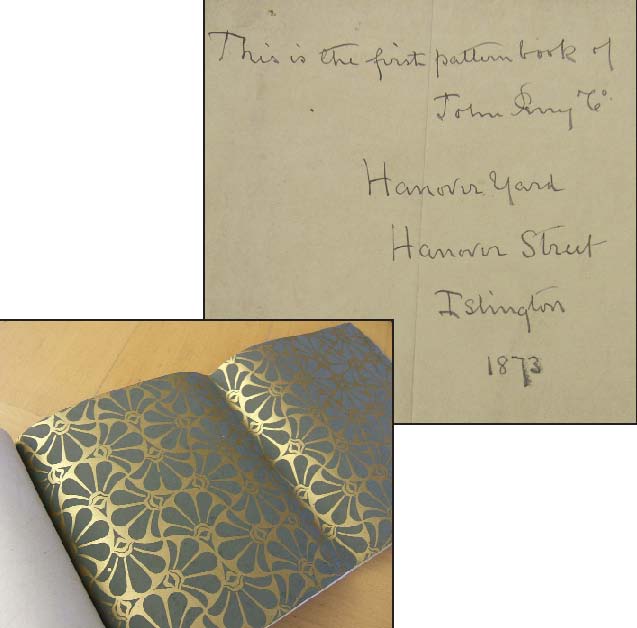 In 1873, John Perry the son of a Cambridgeshire vicar, and a wallpaper designer and producer called John Hanson produced a pattern book, which we still have, with 8 designs. These small beginnings formed the basis for Cole & Son, in 2009 one of the last remaining hand block printers of wallpaper in the world.
The company made wallpapers specifically for the trade and as Perry's competitors went out of business due to the increasing use of machines in the production of wallpapers, he acquired a growing collection of wooden printing blocks. We know that in 1888 he bought printing blocks covering a diverse range of historical designs from
H. Scott Richmond of 8 Paternoster Square. Special grounds and block printing were produced to order in custom colours and some of the block prints had up to 16 colours. The variety of designs was bewildering: dados, fillings, friezes, borders and even small panoramas with birds and butterflies that could be placed on the print to the wishes of the trade client.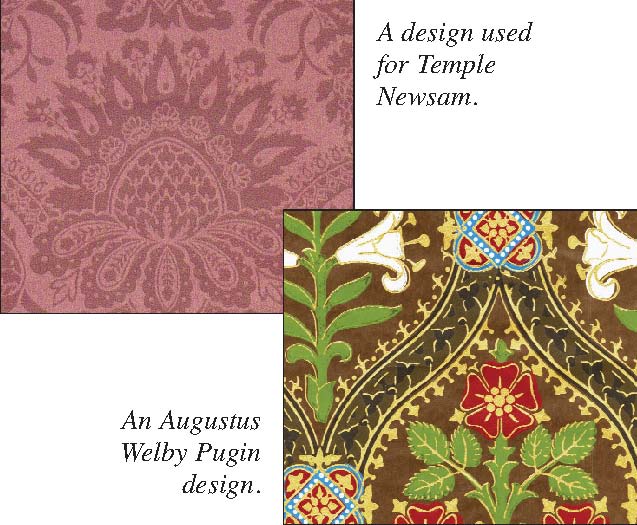 The blocks in the archive and the log of commissions bear witness to the important decorating schemes of the 19th and 20th centuries. The Houses of Parliament, Buckingham Palace, Windsor Castle, Wolverstone Hall, Audley End, Temple Newsam, Blickling Hall, Chatsworth House…… the list is staggering and the pattern blocks still exist ready for further orders.
When John Perry died, Albert P Cole the owner of a wallpaper showroom in Berners Street, London bought the company. In 1934, the highly respected decorating company of Cowtan & Son of Grosvenor Gardens decided to reduce their archive after the death of A B Cowtan, and put their collection of printing blocks up for sale. These historical blocks spanned two centuries, and included the blocks produced by J C Crace & Son, (Cowtan had absorbed Crace in 1899 when John Dibble Crace could no longer cope with new employment legislation). Five generations of the Crace family had furnished many stately homes, theatres, palaces and castles in this country and abroad. They carried out work on Brighton Pavilion for Henry Holland, fitted out Windsor Castle for George IV, and they also carried through the wallpaper designs of Augustus Welby Pugin for The Palace of Westminster. Crace developed Pugin's original designs and used their technical expertise to have the blocks cut.
With the acquisition of John Perry, Cole & Son was now the owner of not only their wood blocks, but also the Cowtan collection. Collectively this became the largest collection of original wood blocks in the trade.
At the present Coles' factory in Finsbury Park we still use the original machines to dye coat the paper, and festoon it to dry, that were developed by John Perry. Originally driven by a belt from a rotating shaft, at ceiling height spanning the whole factory and driven by a steam engine, this was the common way in which most factories drove multiple machines. We still have the mechanism but it is not in use today.
Also produced on these machines was perhaps the most historical innovation that John Perry contributed to the wallpaper industry. This was the creation of a process to imitate silk. Real silk on walls was expensive and he wanted to make an alternative, which he did by using mica. A mined material, mica was only available in lumps, and so John set about finding a mill to undertake the grinding. When he had the ground mica he then tried various solutions in which to suspend the particles so it could be applied to paper, giving a lustre-like silk effect. He also obtained a very newly invented embossing machine from Germany and had a moiré embossed roller engraved to emboss the mica finish – the whole effect was just like silk. These backgrounds took the trade by storm and the whole wallpaper industry was anxious to acquire them to print on. In fact they were so popular that he was able to buy the grinding mill – Sandford Mill near Chelmsford, and also a paper mill at Little Baddow. Both mills were on the the Chelmer Blackwater Canal.
The inspiration for Jaspe came when Perry saw silk being dyed in France, where they hung long lengths of silk up to dry allowing the dye to run down the length of the fabric creating a fine streaked effect. This he interpreted into wallpaper with various brushes and the application of dye, also on the dye-coating machine.
The other major machine that John Perry built was a single colour surface printing machine which replicated block printing in a rotary style. Up until 1839 all patterned wallpaper was made by hand block printing. Following the invention in 1801 of continuous paper making by Robert Dodot and Gamble in France, and the development of this by Henry and Seale Fourdrinier in 1820, the surface printing machine which was modelled on calico printing machines was patented by Harold Potter of Potters of Darwin in Lancashire in 1839. Perry's machine was similar in style and is the one we still use today to create wonderful effects, but it was originally designed to create backgrounds for block printing.
Perry also revived the process of Flocking, first invented in Holland at the end of the 17th century, to imitate cut and stamped velvet. This process involved the printing of a mordant, a variation of glue, by hand block printing and then applying cut wool shavings to the surface of the wallpaper. The underside of the paper is then vigorously beaten allowing the flock to settle. We still use these techniques today, passed down from master to apprentice.
In 1945 Cole & Son established one of the first design screen print studios in the UK in a back bedroom of the showroom building at 18 Mortimer Street in London. Started by Richard Spelling and Douglas Robertson, who were friendly with designers and tutors from the Royal College of Art, this studio produced papers for the Festival of Britain in 1951.
Many of the much-loved archival designs have been translated to multi-coloured surface printing, introducing a new dimension to Coles. These multi-colour surface printing machines date back to as early as 1890 and are beautiful and graceful examples of Victorian engineering.
The archive continues to throw up surprises. Within the last few months we have discovered a very beautiful late 19th century wood block design called Pierpont Morgan commissioned by JP Morgan, the banker, for his homes in London and New York. Another wood block from the mid-19th century, The Apethorpe, was designed for Apethorpe Hall in Northamptonshire, currently undergoing extensive renovation by English Heritage.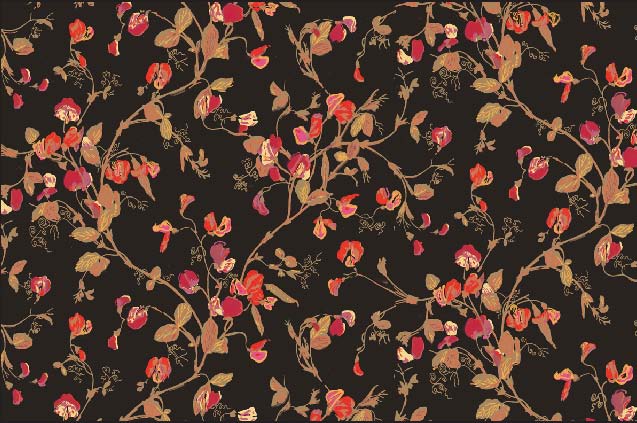 Sweet Pea and Rosebud, both original wood block prints from 1842 and then labelled 'Private Papers' for important clients, are the stars of the recently launched machine printed, A Collection of Flowers.
The interest in wallpaper is as strong now as it was in the 18th and 19th centuries and as a company we are fortunate in continuing to use not only original craftsmanship but also up to date technology to further the history.
Anthony Evans
Anthony Evans has been involved in interior decorating for many years. In 1983 he, with his wife Valerie, set up an interior decoration company, Top Layer, in Egerton Gardens, SW3. In 1995 he was appointed Managing Director of Cole & Son. In 2000 he and a group of investors bought the company from the then owner and with his colleagues built up the company before selling it in 2007 to a Swedish wallpaper company, who have left the previous management to continue to run the business.