TREES R US – AN AMATEUR ARBORETUM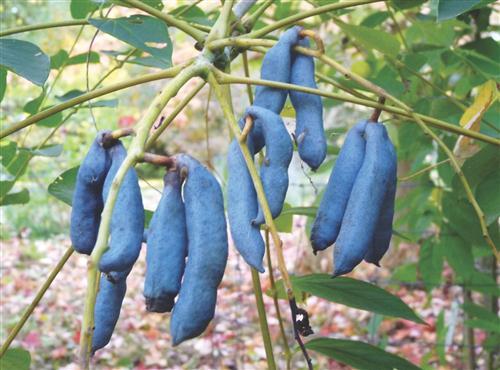 Decaisnea fargesii.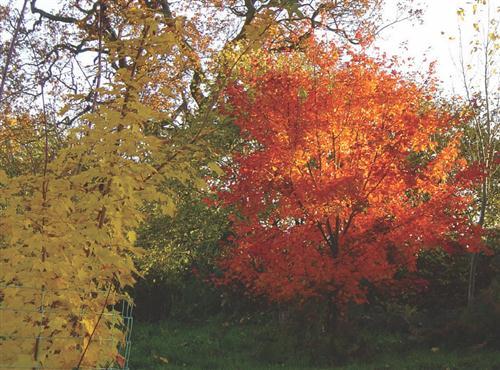 Acer cappadocicum aureum and Acer rubrum October Glory.
On the last day of 1999, I retired from gainful employment and started planting an arboretum. I thought at the time that I was just filling in a field corner, but planting fever got the better of me. Over the previous few years I had planted a number of small woods under the aegis of the Woodland Grant Scheme, which restricted me to native British species, and I was now filled with the urge to do something more exotic. It happened that my then favourite nursery (Hartshall near Walsham-le- Willows) was about to close down, so I walked round with the proprietor and bought some of his remaining stock. I planted these in the corner of a field adjacent to our garden and the arboretum was born.
It sounds a bit pretentious to call my trees an arboretum but the simplest definition of the word is "a collection of trees" and that is what I have. Charles Sprague Sargent, founder of the Arnold Arboretum which is part of Harvard University, used to say, apparently, that in order to start an arboretum it was necessary to have a thousand acres with an endowment of at least a million dollars. He quickly managed to prove himself wrong when he started his own arboretum with a mere 125 acres and 100,000 dollars.
My own arboretum is slightly less ambitious – about 6 or 7 acres which is as much as I can handle. I can't quite compete with Sargent but I shall have just as much fun and I especially enjoy the fact that its all my own work. (or would be if James my tree-planter-in-chief did not dig the holes for me while I lean on my spade and try to calculate where the next tree should go).
My planting has been financed by gradually cutting down the cricket bat willows which I planted about 25 years ago on a particularly wet part of the site. These willows were originally to have paid for my youngest son's education but the 1987 hurricane blew down half of them and a similar storm 3 years later blew down half of the remainder. Following the hurricane, willow was in short supply and I got a very good price for the twisted remains of my trees, but even so, as a fee-paying plan it was something less than a success.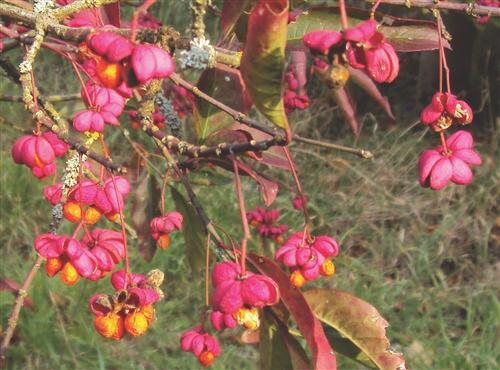 Euonymus planipes.
Before starting any serious planting, I had over a number of years restored all my farm hedges, most of which were suffering from the ravages of stubble burning and roundup, while a number had been rooted out in line with post war agricultural policy. One of my main objectives had been to shelter the garden from the west wind which is often pretty brutal round here. To this end I had also planted quite a number of hybrid poplars many of which had to be cut down once I started planting the arboretum. Although these poplars had done a good job in helping to change the microclimate, they proved to be a remarkable anti-investment. The original whips cost about 15p each, but it cost roughly £350 a time to cut them down 25 years later and an additional 10% or so to grind the stumps out. The timber was worthless.
A very minor stream (known as the Cambridge Brook) flows through the middle of the farm in the rainy season creating a small damp valley. This is where I started planting among a mass of meadowsweet and nettles. My initial, not very original, plan was to plant groups of trees of the same genus but I soon ran into trouble. It is impossible to know in advance how many trees will end up in each group and how far away to start planting the next genus. The same conditions do not anyway suit all the members of the same genus and in no time at all I had decided that the plan was impractical. Not so the genius behind the planting at the celebrated Abbey Park Cemetery in Stoke Newington which until Kew opened was said to be the biggest arboretum in Europe. The 2500 different species which surrounded the cemetery were set out alphabetically, starting with Acer and ending with Zanthoxylum (the American toothache tree.)
Having rather a vague idea of what the limits of the arboretum were going to be, I twice found myself starting my planting year by enlarging the overall boundary and expanding into more easily plantable meadow. By the end of 2006, I was faced with having to plant an extremely wet bit, in fact it was more or less a bog. That provided me with an excellent excuse to go on an International Dendrological Society expedition to the U.S.A. which happened to include a visit to the Great Bear Swamp in Philadelphia, famous among other things for the large number of bald eagles that live there. Although summers in Philadelphia are very much hotter than here, I wanted to see what trees grew in the swamp as it appeared from the reference books that most of them would grow without difficulty in the UK. This turned out to be the case. The main species were Liriodendron tulipifera (tulip trees or what the Americans call yellow poplars), Acer rubrum (red maples), Nyssa sylvatica, and Magnolia virginiana (Sweetbay magnolia). Come the autumn, we planted all these species in quantity and they have flourished, with the exception of the magnolias which look as if they need another dose of global warming if they are ever going to flower.
Apart from Hartshall, my most important source of trees when I started off was Mount Pleasant Trees at Rockhampton on the Bristol Channel. Mount Pleasant's specimen tree catalogue for 1997 listed just 292 species of specimen tree, with a splendidly quirky description of each. I found it compulsive bed- time reading. One of the nursery's greatest claims to fame was that it had the most complete collection of limes for sale in the country and as I was still working on my original plan, I soon acquired the majority of them, thus solving the problem of which species to plant first. A year or two later, Mount Pleasant, to my eternal disappointment, gave up its specialist business, thus depriving its faithful clients of the annual excitement of reading their catalogue. But by 1992 another star was rising – Bluebell Nurseries in Ashby de la Zouch which now has what I think the best and most comprehensive catalogue of out-of-the-ordinary trees in England. Furthermore, Ashby de la Zouch seems to have the same sort of hostile climate as we do, which causes me to feel that if a plant can survive there, it ought to be able to survive on the Essex/Suffolk borders. More recently, I have discovered Pan-Global Plants in Frampton-on- Severn which sells a small but even more exotic selection of hardy trees. Unfortunately, they do not deliver and the last time I went the very fine wrought iron gates were locked against me. Nevertheless, it is well worth persisting.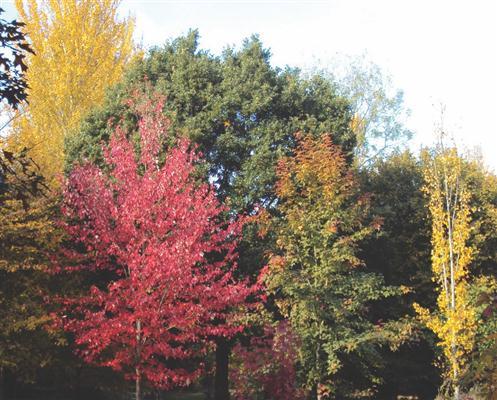 Acer rubrum Red Sunset, Liquidambar acalycina, and Populus tremula erecta.
Frustrated by the difficulties of finding the plants I want, I have, for the last few years, bought an annual consignment from Esveld in Boskoop in Holland. The nursery is vast and among other things claims to have the largest collection of acers in the world (crammed into about an acre and a half – the whole nursery is only 10 acres). Esveld's catalogue is enormous – my 2007-2008 one has 558 pages. Unfortunately, delivery costs have suddenly shot up, so it's sensible to combine a visit to the nursery with the other pleasures of Amsterdam and make a week-end of it. Boskoop is an astonishing place for plant buyers as it has almost 1000 nurseries side by side. (750, anyway – estimates vary widely). I also use the much smaller nursery of Rein and Mark Bulk, next door to Esveld, which specialises in rare field-grown woody plants. Bulk, too, publishes a wonderful catalogue and the nursery is a great deal less exhausting than Esveld.
finally standardised on aluminium labels on which I etch details with an electronic engraving tool. This is a slowish process, but the labels do stand up to the elements. The one major drawback is that deer, bizarrely, are attracted to the labels rather like salmon to a fly and enthusiastically chew them, if they get the chance, unpalatable though they might be. As a result, the labels have to be hung on the rabbit wire round the base of the tree rather than on the tree itself. Finally, I use very strong plastic coated wire with which to attach the label as this also deters other predators such as humans.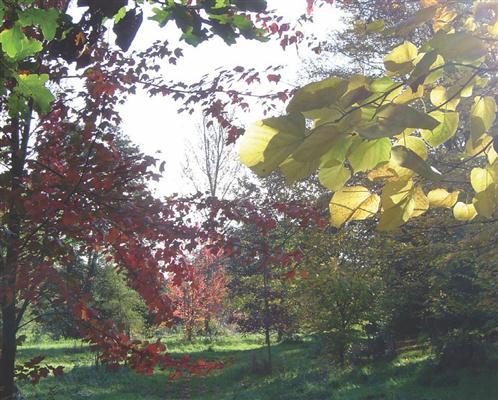 Part of the Arboretum.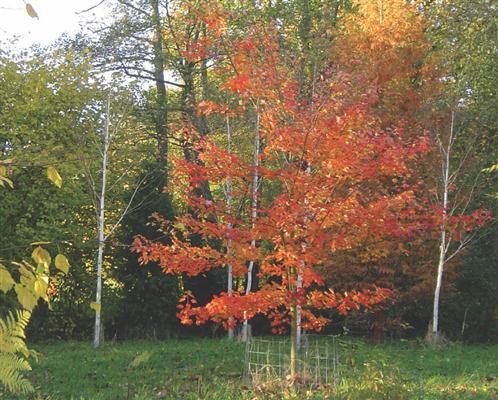 Betula jacquemontii and Acer rubrum October Glory.
I am often asked if there is some master plan or theme behind my planting and, having abandoned my idea of planting neat little groups of different genera, it took me some considerable time to find a suitable answer. I now tell people that my purpose is to try to grow any woody plant that can survive the harsh winds, horrible spring frosts, and frequent droughts of East Anglia. Apart from the climate, our biggest problem is keeping the deer at bay. We are host to 3 species – muntjac, roe and fallow, all of which are increasing alarmingly, but it is the fallow which do by far the most damage, as they are able to pull down branches from a height of 6 to 8 feet. In the early spring a herd of 30 or so frequently takes up residence with us leaving a trail of broken branches each morning. We have a stalker who rarely goes out without bagging one or two but this has, so far, made no noticeable difference to overall numbers. Every tree we plant has to be surrounded with pig wire in addition to rabbit wire, and it is at least ten years before the wire can be disassembled.
It is now well over 12 years since I started planting and the landscape has changed dramatically. At the latest count we had over 400 species and varieties, so that labelling and maintaining the labels is a time-consuming job. There is, however, little point in having an arboretum if the trees are not properly labelled – from a scientific point of view, the collection would be valueless. I have tried out several labelling systems and know to my cost that there is no such thing as a cheap and easy one. I have On May 3rd 2011 we suffered the most destructive frost in the 44 years since we came here. Following a spell of warm weather the trees had been growing at a furious pace and, after the frost, looked as if they had been attacked with a flame thrower. Despair set in and I resolved never to plant another tree. Three months later it was difficult to tell that anything untoward had happened and, following a visit to Pan-global, I was unable to resist putting in an order . . .
Jeremy Hill
Once again Jeremy has written another interesting article. However, he is threatening that this will be his last! If you should see him, please tell him that he is too good to stop!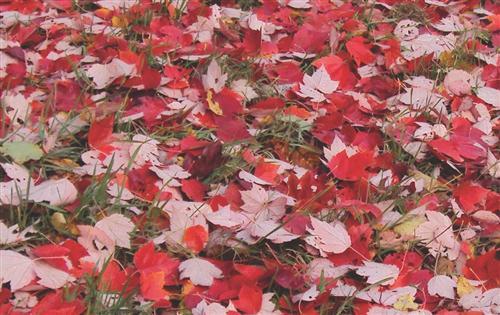 Leaves: Acer rubrum Autumn Blaze.