Caught Knapping
There is one thing certain, and that is, that you will not nod off when listening to Will Lord, probably the best knapper in this country. Will was born in 1970 when his father was the custodian of Grimes Graves, near Thetford, Norfolk. Grimes Graves is the site of a series of Neolithic Flint mines that produced some of the best flints available. If you wander through Thetford Forest you are likely to come across flint mines which were made by the Stone Age people searching for good flints, which they ultimately found at Grimes Graves some 4,000 years ago. These flints were fashioned into survival tools: axe heads, arrow heads, scrapers, burins and other associated essential tools for living in this period of the late Stone Age. Some 500 years later saw the start of the Bronze Age when ancient man began to smelt bronze to make axe heads etc.
If we go further back in history some 55,000 years ago, we find Neanderthal man hunting mammoth and there is evidence of this in a quarry at Lynford outside Swaffam. Will personally owns the only unfinished hand axe out of 70 hand axes that were discovered at Lynford amongst the bones of a significant mammoth hunting site, and is able to demonstrate a story within schools as to why this may not have been completed.
Happisburgh beach on the North Norfolk coast has become significant for Will as he is able to demonstrate how our evolutionary timeline has been shifted back to one million years due to sedimentary based flint artefacts.
When I arrived at Will's house he noticed that I had, on the front seat of my car, two pieces of flint, which he examined and announced that they were Neolithic hand tools. Colchester Natural History Museum, and its archivists, had said they were just bits of flint. However, I was not convinced and had kept them to show to a greater authority, and Will demonstrated, that due to the shape of the shock waves caused by the influence of flint knapping, man had been involved in their production. I was encouraged to learn this as I was convinced that they were man-made due to their shape. I had unearthed them in my garden in Lamarsh.
From an early age, Will became fascinated by flints, and their ancient usage, and by 1975 he was known at school, as "Nipper Knapper". He started to learn the art of knapping flints to make facing stones for buildings. In 1987, after leaving school, he became a mechanic, but at the same time he joined his father, who had relinquished his role as Custodian at Grimes Graves, in the production of flints for facing buildings, and he worked with his father for seven years. Throughout the next few years Will ventured into various territories, some more successful than others. However Will always knew in his heart of hearts that he wanted to recreate the skills of Stone Age man. In order that he could pass this knowledge on to future generations, he set about refining his skills working on flints and exploring the ways our forebears had lived and hunted.
In 2008, Will set himself up near Bury St Edmunds as a prehistoric re-enactor and at exactly the same time an opportunity presented itself for him to supply flints to the black powder industry making gun flints, where he went on to provide vast amounts, in excess of 60,000 hand- made gun flints per year. As well as supplying the UK market, these were exported mainly to Europe, the USA and Australia. On a good day he could fashion up to 300 gun flints.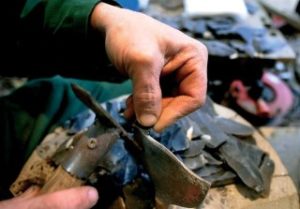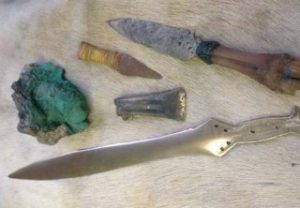 He used the manufacture of gunflints to finance what he had always envisaged: recreating and demonstrating the way our ancestors had lived. So began his "acting" career, which combined his many skills of creating Stone Age and Bronze Age tools, hunting, and living off the land.
In Will's garden, behind his house, is a wooden chalet, in which he shows some original, and some copies, of two million year old fashioned stones, from Africa, and other tools as well as reproduction bows and arrows, deer skins, and paintings on stretched hides. He obtains natural pigments for the colouring, for example, lumps of ochre from The Forest of Dean, where it has been being mined in the Clearwell Caves for over 4,000 years. There is also a collection of reproduction Bronze Age implements made on site. Just across the lawn from the chalet is a re- creation of a Neolithic hut with a fire in the centre, surrounded by seats bedecked with hides. Just behind the hut is a large pile of flints ready for Will to demonstrate his skills. While we were talking he collected one flint measuring about 10 inches by 6 inches by 3 inches and began to chip away at it gradually reducing it in size and creating a point and a rounded end to fit the palm of one's hand. Bit by bit he knapped away until the two sides were sharp to create a Palaeolithic hand-axe. After no more than ten minutes he handed me this implement. It could have been the real thing!
In this same hut Will smelts bronze in the same manner as over 3,000 years ago. He grinds pottery and mixes it with horse dung and fresh clay to create a furnace measuring about 15 inches in diameter and about 20 inches high, with a small hole at the bottom into which he can insert a pair of bellows made from skins. (see photo) The temperature in the furnace can reach 1400 degrees and can smelt bronze in forty five minutes.
To create the moulds for the axe heads, he can fashion a head in wax, which is then encased in clay after which the wax is melted out and the liquid bronze poured in. Malachite is the primal source of copper, the main ingredient of bronze, and this was originally obtained from Llandudno in North Wales after people from ancient England were educated by foreign travellers from Europe that it could be extracted through the use of intense fire.
Will has gained the title of one of Britain's leading reconstructive technology experts and he is also seen as a true bushman. Will explains that to be a real bushman/hunter we need to revisit stories of the past where young passionate children, who wanted to hunt, were not allowed to hunt a deer until they had gained the skill to stalk it to a point where they actually touched the deer's back. This may be something that seems unreal and unachievable to many modern hunters.
Will also describes that when walking through woodland, you have to accept that your presence is noticed by all of the woodland residents who will naturally recede from your approach. This will always hinder your hunting, until such time as you learn to drop away from the end goal of hunting, and find some peace with your environment.
After a successful hunt, which would today provide our modern world with venison for the plate, Will uses the skin, the brains, the bones, the tendons and the stomach for a massive wealth of tools and opportunities to take on further hunting trips, warm clothing, glues and water proof vessels.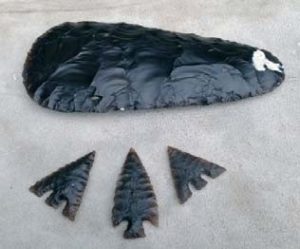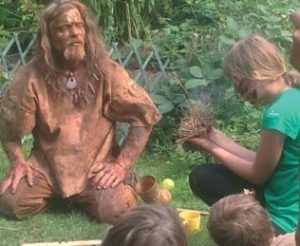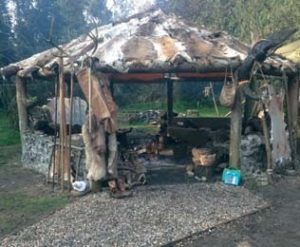 During 2014 he was approached by a producer from The Garden Production Company, who were working with Channel V to produce a film about life in 10,000 BC, to be filmed in Bulgaria. They needed the reproduction clothing essential for the film. He made the garments for twenty people, leather trousers, leather tunics, reindeer skin coats, loin cloths, and shoes as well as two reproduction Mere Heath sinew bound longbows from the Neolithic period and, believe it or not, six arrows, when in reality they would have needed not less than sixty. In order to meet the tight production schedule Will took on a helper, Simon, who is now full time and part of Will's act when it comes to school visits and workshops. When giving demonstrations to groups Will, the inland hunter/gatherer, and Simon, the coastal forager, dress up in full primitive clothing consisting of deerskins, fashioned expertly into clothing, including deerskin boots (see photo) Their aim is to give a serious look back in time and offer a much clearer understanding of our fore- bears and how they lived, using the age old techniques of brain tanning and smoking, and he and Will intend to run workshops making reindeer coats and shoes. One of Will's aims is to educate children at schools and summer camps and holiday clubs by offering a day described as "a caveman in the classroom": a full day of prehistoric fun. Will and Simon will come dressed as cavemen wearing real skins with their faces painted with ochre and whilst they will speak modern day English they will make the guttural sounds from the past. They use a story type approach that emphasises that they live in a vastly different way to how we live to-day, with the need to go out to hunt to get the next meal for the table. Will demonstrates the tools he uses to survive, such as flint spears, daggers, ropes made from stinging nettles, and he will create a flint axe head from a large flint stone.
The story will go on to show how to make a fire using a bow drill and dried grasses, then adding wood over which to cook.
Children are given ochre to paint their faces, or for cave art. Natural fibres are on hand to make string. However the biggest thrill is to share the caveman's lunch of venison or freshly caught fish cooked over the open fire in front of them. Dried fruits, berries and seeds, including "jerky", described as dried mammoth, are also available to try out.
Will has a captivating manner and it is impossible not to be fascinated by his skills and his wish to demonstrate these. As to the future, Will naturally wishes to expand his business so that he is known as the pre-eminent re- creator of prehistoric man. I suggest that anyone wanting to see Will visit his website www.will-lord.co.uk If you are a school then use the following www.will-lord.co.uk/will-lord-schools.html
Will has suggested that I take along a small group of members and he will cook venison over an open fire for a summer supper and will demonstrate flint knapping. As you will have read above, Will's way of life and acting provides for his wife and family and to take part in one of these experiences involves a charge of £15 per head, which is a one off special price for the CSCA. If you would like to be part of a Neolithic experience then email me mark@markpadawson.co.uk and I will put you on a list and organise a date after which I will then confirm to you. Numbers will have to be limited.
Mark Dawson