Another Suffolk Success Story
In the 2013 Magazine I wrote an article about a thriving business that had been started from the farm buildings behind a country house in Stoke by Nayland.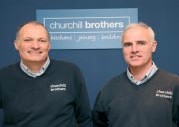 A few miles to the west lies the village of Leavenheath, where I spent my youth, and a good many other years. As a village there was nothing in the 1950s apart from two hamlets joined by the A134 and I remember Jack Warner telling me that in his youth it had been decided to join the two hamlets by making a track from the southern end of the village at Honey Tye to the northern end around Harrow Street and The Hare and Hounds pub and someone took a line to what was known as Keebles then on to the north creating the road that exists to-day, except that it went past the pub up to a T junction with the Stoke Road. When we first arrived in 1950 the road was single track and the dip in front of the church had not been made into an embankment. It was a quiet road with very little traffic and sheep and cows were regularly driven along it from field to field. To-day it is a major route between Colchester and Bury St Edmunds and the dreaded A14. However tucked away down Harrow Street is a thriving little business 'Churchill Brothers', who specialise in making bespoke country kitchens. To me the name 'Churchill' conjures up visions of greatness, and I can say from personal experience that our Churchill Kitchen ticks all the right boxes.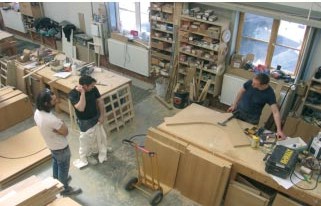 The business is family run by brothers Will and Olly, two out of a family of five Churchill brothers. Another brother, Dan, works as a sub-contractor on Kitchen fitting, and various other family members are involved. John, and Anna, offer part time support in the office. The remaining two Churchill brothers are doing well in computing. The business, situated amongst the fields off Harrow Street within an old cow shed, was originally conceived by their stepfather in the 1980s when the family moved to a new home in Leavenheath. The three of them made pine furniture, windows doors and 'a couple of kitchens' in a barn behind Hunters Lodge. These premises soon became too small and they moved to outbuildings at Harrow Street Lodge, then to where they are to- day. 25 years later the cow shed still stands but is flanked by a fully operational joinery and office building. Planning permission has recently been granted to develop the cow shed and create a purpose made building to expand the business in years to come. Today the concept is to offer a totally bespoke service starting with the clients "wish list" through to finality. With the joinery and building division on site they can provide the whole package, project managing and delivering their customers sought after kitchen.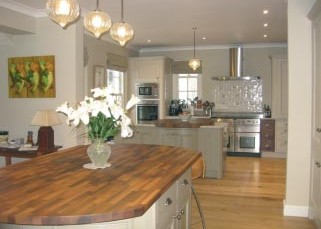 The success of the business, which has weathered two recessions, has depended on a stable and expert workforce, which today consists of nine full time staff, and includes a joinery apprentice. Nick is the longest serving member of staff, who began as an apprentice at 18 years old in 2001. Today he is a vital part of the site team, fitting kitchens and also undertaking renovation and building work.
2015 was a particularly successful year, producing an unprecedented 18 kitchens alongside numerous joinery projects from wardrobes, and office storage, to laying wooden floors, and supplying and fitting doors, and windows. The ambition is to build on this success with a 40% increase in kitchens for 2016, as well as launching a new 'off the peg' range of furniture, including dressers, and pantry cupboards, which will soon be available to purchase via the website.
Will overseas production and coordinates site activities, with the office headed by Olly. Clare and Ali manage the day to day administration as well as designing and planning the implementation of kitchens.
Once the measurements of a proposed kitchen are determined, the challenge is to get the balance between appliances and storage right as well as considering the flow of the kitchen in relation to the 'holy kitchen triangle' of fridge, cooker and sink. Many clients want too many appliances, and have to be persuaded otherwise! The design "Cad" system demonstrates the end result and can be tweaked until the Customer is satisfied with the layout and the look of the kitchen. The fun part is then choosing colours and details that add the finishing touches, such as worktops, knobs, and handles, and tiles.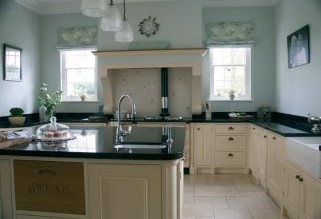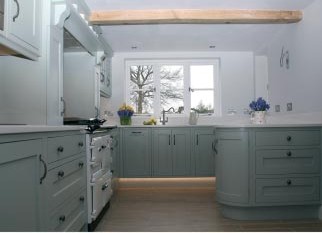 The aim is to source the best quality timber products and components as locally as possible. Tulip wood is imported from the USA by Thorogoods in Ardleigh and Sepele and Oak are purchased from Brooks Brothers in Maldon. Customers often visit the workshop and are able to see their kitchen under construction. I did just this.
Clare loves the design work and inter-reacting with customers and fulfilling their requirements, including sourcing their chosen appliances. Here Churchills are able to obtain competitive prices to keep costs down.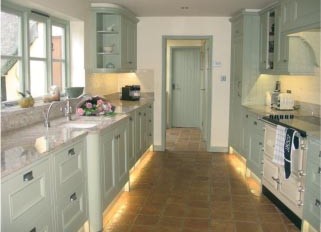 We are thrilled with our Churchill kitchen, which was ready on schedule, and installed to our timescale. After initial installation we were visited by the "Perfection Team" who checked that everything was as it should be! The dove tailing of drawers and other items is a work of art and I cannot find fault with anything, and I am very particular about good workmanship. That says a lot for the Churchill Team!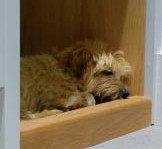 Mark Dawson