EA Festival at Hedingham Castle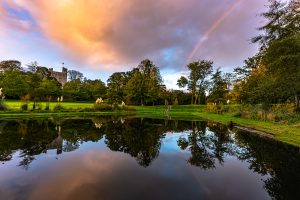 Following on from its highly successful launch in 2021, EA Festival is back at Hedingham Castle from 11th to 12th June 2022 with an exciting line-up of world-class speakers and performers.
Paul McKenna, Maggi Hambling, Lady Glenconner, Hugh Johnson, Hannah Rothschild and Simon Heffer are some of the top names already booked. Once again this cultural feast aims to be adventurous, current and thought-provoking for an audience with a wide range of tastes and interests. "It will be a real smorgasbord, with something for everyone," says Founder and Creative Director Joanne Ooi. "I choose issues and subjects that interest our regional audience but always try to present them in a way that is illuminating to audiences all over the world."
One such subject is well-being and mental health. Ooi has invited two experts, Dr Lauren McDonald and Dr Joanna Neil to discuss the success of psychedelic drugs for treating severe conditions like depression and trauma, and the need for legal reform to accommodate further research. Keith Abraham, who suffered severe anxiety and depression after military service in Iraq and Afghanistan, is joining the panel to talk about ayahuasca therapy, a psychoactive therapy which has allowed him to deal successfully with his own trauma and stress.
Paul McKenna, the world famous hypnotherapist will be talking to John Lloyd about helping people overcome self-doubt and learning to thrive in the modern world, whilst trained psychiatrist Dr Sue Stuart-Smith, will be discussing her book "The Well-Gardened Mind" which analyses the ways in which people find peace of mind through gardening and connecting with nature.
Michael Sheridan, author of Gate to China, will explain how British diplomatic miscalculations and the rise of the People's Republic under Deng Xiaoping led the Communist Party to accelerate its takeover of Hong Kong – despite the promise of 50 years of freedom after 1997.
Lea Ypi will talk about the shock and confusion she felt as a teenager growing up in Albania as it shook off communism and embraced democracy. Ypi is currently Professor of Politics at LSE and her book "Free: Coming of Age at the end of History' was chosen as Book of the Year by The Guardian, The New Yorker, The Financial Times, the TLS, The Spectator, New Statesman, and the Daily Mail and serialised as Book of the Week by BBC Radio 4.
Francis Morris, Director of Tate Modern, will tackle some of the biggest questions confronting art museums such as funding, repatriation and political correctness whilst artist Maggi Hambling will chat about creativity with the art critic and historian James Cahill.
Hannah Rothschild, novelist and former Chair of the National Gallery will be talking to William Sieghart about the power of Reinvention, whilst Justine Picardie, former editor of Harper's Bazaar and best-selling fashion biographer, will discuss the future of the fashion industry.
At the end of each day, the talk will stop and the music will begin. On Saturday, classical music lovers will be treated to a concert by violinist Elly Suh, celebrated as one of the leading Paganini interpreters of her generation, followed by a diverse cabaret of beguiling opera tunes from mezzo-soprano Clare Presland. Sunday's musical finale will feature three of East Anglia's top singer-songwriters, Bessie Turner, Maya Law and Mosiah Levi, spanning pop-rock-synth-soul genres.
There will also be an art exhibition in the wonderful Norman keep curated by Charlie Hart and his colleagues from the Cambridge Art Fair.
With such a breath-taking array of subjects including art, fashion, history, literature, politics, music, poetry, wellbeing, wine, gardening, China and even psychedelic drugs – it promises to be an incredibly fascinating and entertaining weekend.