THE FINE WINES OF ENGLAND
'm an incomer to Suffolk, lured here in the mid-1970s by the county's fledgling wine-growing scene. Having worked my passage around the wineries and cellars of France and Germany, I set my sights on English vineyards or – more precisely – those of Suffolk. Eight brilliant years were to follow, during which I fought a rearguard action against rabbits, hares, partridge (they adore young vine shoots), the ravages of various mildews (due to inappropriate weather), ravenous birds at harvest-time (thrushes, blackbirds and starlings could munch their way through an inordinate number of bunches in pretty short order), and the unequalled competition from established wine-producing countries the world over, with more suitable climates, fewer pests and more competitive prices. Eventually – along with my fellow English winemakers – I started to reap the rewards, as over the next three decades English wine at last began to hold its own on the world stage. Progress hasn't been without its setbacks, of course, the most dramatic recent example being the washout summer of 2012. English producers are well used to dodgy weather and have usually found a way to muddle through, but we are now witnessing a much more professional approach to the actual art and science of winemaking. Full marks in this respect to one of the largest and best-known producers of sparkling wines, Nyetimber in Hampshire, who made the decision to write off their entire rain-damaged crop rather than jeopardise their growing international reputation by making substandard wine from rubbish grapes. However, if you thought that English fizz would be a nice cheap option to Champagne, think again. Although made in the same way and with the same grape varieties, the quantities produced are minute in comparison to the mass-production of its counterparts around Rheims and Epernay, while still being subject to the same iniquitous taxes. So if twentyfive quid seems too much to spend on a bottle of really exceptional sparkling wine – English or otherwise – stick to Prosecco or Cava for the time being and put patriotism on hold.
The grape which I believe will help to cement the reputation of English wine once and for all, is a variety called Bacchus. As California trades on its 'signature' variety of wines made from Zinfandel, Argentina on Malbec and New Zealand on Sauvignon Blanc, so I believe will English wine and Bacchus become inextricably linked. If you should be in any doubt, search out the eponymous wine from your local vineyard at Lavenham Brook (available also from the Adnams Cellar & Kitchen Store in Hadleigh). It has some of the ethereal aromatics of Sauvignon Blanc, but with a twist of Englishness about it – just the qualities I feel it needs to become 'England's' wine.
Whilst nearly every wine-producing country has its signature variety, it is not always the single varietal that garners the plaudits. It certainly helped open the sluice gates in terms of UK wine consumption in the early 1980s (who could resist a bottle of Bulgarian Merlot or an Australian Chardonnay?) and thanks to the clear labelling of New World wines we are much better able to identify individual grapes. But to me, the greatest joy is indulging in wines which have been made with more than just the one grape variety. I liken it to an artist on the end of Southwold pier, with just a daub of blue paint on his palette; I wager that his picture will be predictably boring. Give him some white paint and some green, and suddenly you have a sky, sea, waves, gulls etc – something on which to feast your eyes. Bordeaux and Rioja are two classic examples of blended wines, both being greater than the sum of their component parts. Bordeaux, for instance, is generally blended from three grape varieties, namely Cabernet Sauvignon, Merlot and Cabernet Franc, with the occasional inclusion of Petit Verdot or Malbec (a native variety to south west France). On their own, these can all be quite dull, but when carefully combined – in whatever proportions the winemaker considers suits his château's style – the result can be overwhelmingly delicious. Rioja made solely from Tempranillo can be predictably dull but, thankfully, most of them contain a little Garnacha, the occasional splash of Merlot and sometimes two other local varieties – Mazeulo and Graciano. Suddenly your glass is choc-a-bloc with aromas, nuances and a depth of flavour which otherwise would not be there. Like a decent claret, it has become a mini work of art, comparable to the signature dish of a top chef, where the exact ingredients may only ever be known to its creator.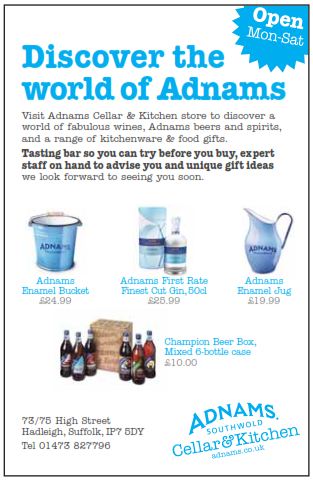 Playing devil's advocate, one could likewise suggest that a single varietal wine can be simply spectacular. Red Burgundy made from Pinot Noir is arguably the greatest wine of them all, when produced by a great grower in a great vintage. Some might say that White Burgundy, made from Chardonnay, is the apogee of greatness – be it a simple Chablis, a radically expensive Montrachet or a user-friendly Mâcon. Sancerre and Pouilly-Fumé are stunning examples of Sauvignon Blanc, and Barolo -the king of Italian wines (and said to be the wine of kings) is made solely from the Nebbiolo grape. To every rule there must be exceptions, and the proof of the pudding is in the tasting of many bottles.
And finally, for those who don't feel the need to spend the entire family budget on trophy wines, yet would like some reassurance that the wine they have just forked out a tenner for is the real deal, I might suggest you head for our Cellar & Kitchen Store in Hadleigh's High Street, and aim for the Adnams 'own label' selection. These are wines to which we attach maximum importance, and which represent the best we can find in their category, appellation and/or price range. Space may not permit the inclusion of all of them, but I would eagerly draw your attention to a handful of my personal favourites. Adnams' White Burgundy (affectionately known as AWB to its fans) is possibly the icon of the range. At £9.99 a bottle, it is the classic example of that much maligned and ubiquitous variety – Chardonnay; the grape the chattering classes like to eschew these days, in favour of Pinot Grigio! I dare anyone not to love this wine, for its purity of flavour and its crisp, unoaked, citrus vibrancy. In our opinion, there is no better example. Three of my other favourites are heady blends; 'Les Promesses' is our Côtes de Rhône, packed with fruit, style and grape varieties like Grenache, Syrah and Counoise (£8.99). 'Monte Acuro' (also at £8.99 a bottle) is a classic, perfectly balanced Rioja Crianza made from Tempranillo, Garnacha, Mazuelo and Graciano, with bags of red-fruit character, and Adnams Champagne; a winning blend of Chardonnay and Pinot Meunier, and a wine of such excellent quality, that we maintain that nine out of ten East Anglian brides' fathers can't all be wrong! At £19.99 a pop, it knocks spots off the opposition and is guaranteed to bring a smile to everyone's
Rob Chase
Fine Wine Manager
Adnams Wine Merchants
Rob has worked in vineyards and cellars across France and Germany, and has travelled extensively as a member of the Adnams wine-buying team. His other daytime job is selling fine wine, and he is never happier than when he has the opportunity to de-mystify the subject, through tastings and wine lectures, to anyone who might be foolish enough to stop and listen!
Adnams have agreed to offer CSCA Members 10% discount at their Hadleigh store.
The Adnams White Burgundy is a favourite of mine.