Another, highly unusual, Suffolk Success Story
I don't know how many other Suffolk Success stories I am going to find, but this is the third, having previously written about Jim Lawrence and his outstanding ironwork, and his local showroom which embraces many household items from Lampshades to curtains and fabrics. Then last year was the Churchill Brothers who made our stunning kitchen. Now there is another very local but very different success story.
It was a cold and damp December evening when I went to see Sarah Cook at her home, Hullwood Barn, Shelley which she shares with her husband, Jim Marshall.
We first met Sarah and Jim a few years ago when we went to their open garden. Since then we have seen quite a lot of them and they have become good friends.
Sarah is a local. She was brought up in Hadleigh and aged three was given her own little garden. Her mother often helped Cedric Morris at events at Benton End in Hadleigh and, although young, Sarah obviously took note of his collection of irises.
She went to Hadleigh Hall School before being sent, aged only seven, to St Monica's School at Poole in Dorset. Here she was given a garden to grow whatever she liked and she recalls that a fellow pupil stole her crop of radishes! From there she went to Sherborne School for Girls and thence to Cambridge where she read Geography and obtained a BA(Hons) which was followed by an MA.
After University she was uncertain what to do and decided to try her hand at running a fishmongers' mobile stall in Cornwall, and she also did a bit of waitressing. This was during 1971/72. One day one of her customers at the fish-stall took her to one-side and suggested she become a gardener as the gardener she had interviewed had turned out to be no good. The job was in Bodmin and Sarah took it.
Over the next three years Sarah learnt all she could from the benevolent lady, after which she felt it was time to advance her career and she went to Kew Gardens and to Norwood Hall Horticultural College. At Kew, Sarah was tutored by the Assistant Curator, and she obtained her M. Hort. qualification. Meanwhile, in 1978, Jim had been asked by the National Trust, for whom he was working, to scout for talented gardeners and a few years later in 1983 he noticed Sarah, whilst she was at Kew and suggested to her that she should apply for the job as a senior gardener at Sissinghurst, a National Trust property. She got the job but after four years she decided she needed to further her career and she applied for a more senior gardening role at Upton House, near Banbury, where she became the first female Head Gardener, and she stayed for three years.
Whilst at Upton House, the National Trust (Jim) suggested she should apply for the role of Head Gardener at Sissinghurst, which had become vacant. It was now 1991. She got the job and within a few days of her arrival she came across the iris "Benton Nigel" and her thoughts were of her childhood home in Hadleigh. She then realised that Cedric Morris had been a friend of Vita Sackville West who had created the Sissinghurst garden and to this day is visited by Sarah Raven, the well-known plantswoman and writer who is married to Vita's Grandson.
After five years at Sissinghurst she was asked to combine her job as Head Gardener with that of Property Manager. During all this time she was under the watchful eye of Jim Marshall who was the Gardens Advisor for the Kent region of The National Trust. Jim and Sarah's paths continually crossed, so it was no huge surprise that they got married in 2003, shortly before the time Sarah had set, in her mind, to retire.
They decided that they wanted to move back to the Hadleigh district and together they found a barn that was being converted into a house and it is where they now live. Extraordinarily, the land on which the barn stands had once belonged to her family in the 1800s.
Jim was already in charge of the Malmaison collection of carnations and it gave Sarah the inspiration to try and reassemble a collection of Cedric Morris irises. After Cedric's death, the collection had got dissipated and were not held as a collection anywhere in the World.
Sarah was introduced to many people who had known Cedric, and her mother was able to help. Jim suggested a visit to the RHS Library in London, where she discovered that Cedric had bred some ninety different irises. Word spread quickly among the gardening fraternity around the World, that Sarah was looking for identified Cedric Morris irises, and she was contacted by collectors from the USA, Switzerland, the Czech republic, and elsewhere. Having found ten or twelve different cultivars, she applied to hold the National Collection of Cedric Morris irises, and she was granted the honour.
Now the really hard work began – assemble a collection fit for The Chelsea RHS Flower Show and, whilst about it, why not go for Gold?
Jim knew David Howard at Howard Nurseries near Diss, and in 2007 they teamed up to propagate the Cedric Morris bearded irises with the idea of going to Chelsea when the collection was large enough. By 2013, that point had been reached, and in April 2014 a design for a stand was finalised, and an application was submitted in July 2014. Meanwhile an artist, Cheryl Fountain, had been selected to paint a scene depicting the garden at Benton End and beds of bearded irises as part of the backdrop for the stand. In October, they learned that they had been given a stand space in the main marquee for Chelsea the following May. Besides beds of irises, an important feature of the display was some box hedging which was vital to the design. However, it decided to go brown in places and so would have to be very painstakingly pruned with small scissors ready for Chelsea, a job eventually undertaken by my wife, Clare, who also took photographs at Chelsea and subsequently photographed all the irises and carnations for Plant Heritage.
In early May 2015, the iris buds were wrapped up ready to go to Chelsea and in the week before the show everything arrived at The Royal Hospital, and the stand was created and finished by Sunday 17th ready for judging on 18th prior to being open for the public on Tuesday. It was therefore with baited breath that Jim and Sarah waited outside The Royal Hospital in the early morning of the opening day, and on entering the marquee and going to their stand there was the Gold Medal Certificate.
The stand was visited by many people including well known faces such as Carol Klein who pronounced, in her inimitable way, that her favourite plant at Chelsea 2015 was the iris, "Benton Olive".
There were some twenty five different varieties of Benton Irises on display and their "soft bruised colours and elegant open forms" made them stand out. Sarah refers to "their floaty elegance" and their perfection in an English Country Garden.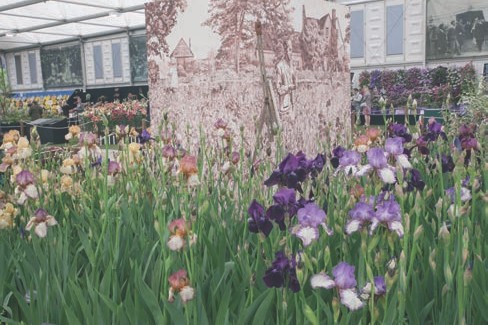 Sarah's quest to find Benton Irises has taken her far and wide. She visited Basel Botanic Gardens, where there were some 1500 pre 1968 cultivars, and amongst these she found "Edward of Windsor", Benton Bluejohn", "Benton Daphne", "Benton Duff", "Benton Menace" named after Morris's cat, "Benton Pearl", and "Benton Opal".
A visit to RHS Lindley library yielded up "Benton Olive", which was featured in the Historic Iris Preservation Society's 1952 catalogue, and was an iris Sarah was convinced was a Morris creation but until then could not prove it. An expletive exploded from Sarah when she realised the importance of what she had at last discovered.
Cedric Morris had an eccentric and eclectic mix of painters and hangers-on who visited his East Anglian School of Painting and Drawing, where pupils shared lively dinners, and stayed in the house together. Alumnii include Maggi Hambling and Lucien Freud; also among them were Christopher Lloyd, who created his stunning garden at Great Dixter; and nearer to home Beth Chatto, whose renowned garden at Elmstead Market continues to attract coach loads of visitors and never seems to stop growing, although they may now have run out of space.
Irises flower in May when most gardens have little colour before the gardens burst into flower in June, so they make a good point of interest when everything else has yet to bloom.
Chelsea rekindled a huge interest in the Benton/Cedric Morris irises and the demand for the cultivars way outstrips the supply. However, it is possible to order rootstock from RHS Wisley and Beth Chatto, and you can of course visit Sarah at her home where you may be able to purchase some irises.
If you have an Iris that has a label with "Benton" on it then check with Sarah by email sarah@malmaisons.plus.com and, if it is not on the list, Sarah would love to know so she can add to the collection. Likewise, if you are at any garden around the World and you see the label "Benton" take note and photograph it and contact Sarah. There is a good chance that some of the sixty five missing cultivars will be found in the future.
It is Jim and Sarah's intention to develop a dedicated website for the Irises and the Carnations. When this is up and running, I will put the connection onto the Colne-Stour website.
Sarah can be contacted by email as above.
Jim and Sarah's garden will be open to the public in late May 2017, but the date is dependent on the weather, so email Sarah and she will give you the dates.
Mark Dawson Photography by Clare Dawson ©