Cycling in Suffolk – An Environmental Holiday
As I am one of those people who separate their recycling into a dozen different bags and spend a lot of time banging on about global warming, I decided it was time to put my money where my mouth is and spend a carbon-emissionless summer holiday bicycling in Suffolk.
Having enlisted as touring companions my wife and another couple, our departure was finally fixed for September 17th – by no means risk free from the weather point of view, but better than postponing it to another year by which time the inspiration might have left us.
The next problem was bikes. Something rather more professional than the old wreck sitting in my stables seemed to be called for, and here the internet came into its own. Feed "bikes Suffolk" into Google and out comes the answer " Byways of Darsham". This turned out to be an absolute bulls-eye. Darsham for the uninitiated is to be found just east of the A12 north of Yoxford and at Messrs Byways you can hire bikes and leave your car in their car park for as long as you are pedalling. Thus was our itinerary born. When they heard of the excellence of Messrs Byways' service, our entire team agreed to hire their machines. Their confidence was well rewarded – the bikes had a 7 gear system second to none made by Shimano (demons of Japanese engineering) and seemed more or less indestructible.
Having decided that we should go for a week (6 days – church on the Sabbath), Hugh of Byways assured me that there would be no problem hiring bikes as the holidays would be over and business would be slack. He was a bit doubtful about the provision of panniers as he said that there was no call for them in Suffolk. However I insisted that the rules of this particular get-away-from-it-all holiday were that you had to carry all your possessions with you and that they were therefore essential.
We decided to stay overnight in B&Bs, and with further recourse to the internet fixed up a circular tour, starting at Darsham and taking in Minsmere, Southwold, Halesworth, Fressingfield, Eye, Framlingham and Saxmundham. We would at all times keep off the main roads and expected that the going would be pretty flat. (It was, though at the time the exceptions seemed numerous).
The morning of Monday September 17th saw us still grappling with the debris of a week-end party and we got off to a rather late start. Arrived at Darsham, we met the admirable Hugh who was somewhat caught out by our arrival as business had been "unbelievably brisk for the time of year" and there had been no time to prepare the bikes. However they were rapidly assembled, fitted with panniers, lights and baskets, the panniers were stuffed and we were off.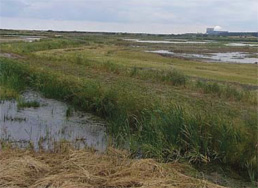 Minsmere & Sizewell Power Station. 
Having brought our binoculars, our first objective was Minsmere a mere(!) 4 or 5 miles away. The reserve is run by the RSPB and impeccably laid out. The hides are brilliantly disguised from birds and humans alike and the admirable absence of intrusive signs meant that for some time we were not sure whether we had arrived or not. Arriving late meant that our birdwatching had to be cut short, but there was, even so, a gratifying number of wildfowl to be seen – greylag, widgeon, teal, garganey, shoveller in good numbers, and a superfluity of Canada geese. All with the backdrop of the slightly sinister but nevertheless clean-limbed architecture of Sizewell nuclear power station
Our intention had been to pedal north to Southwold before moving on to our overnight stop at Frostenden a few miles to the north-west. But since it was getting late
and there were rumours that there might or might not be a ferry across the river Blythe, we decided to cut out Southwold and go direct to Frostenden along the B1125
and then the A145. This turned out to be cause for much regret. We pedalled endlessly through a surreal pig-scape, bombarded by smells and squeals and menaced constantly by aggressive traffic. Also we were heading north, so it was all up-hill. It was not an auspicious beginning and as route planner I felt a great deal of egg spreading over my face, quite apart from the smell of 5 million pigs. Fortunately this turned out to be the low point in our trip; we eventually made a landfall at a magnificent B&B in Frostenden and awoke the next day to a glorious view of the round tower of Frostenden church at the end of the lawn.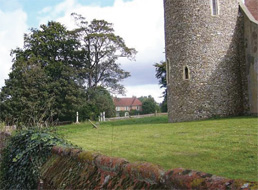 Frostenden Church & Hall.
Back in the saddle, we rewarded ourselves with a leisurely ride through lovely, and more or less deserted countryside, to Blyford. This stretch of country must be a good deal less populated than a century ago and entirely unspoilt. The blackberries here (and everywhere else) were prodigiously plentiful and made for a great many stops. The cross-roads at Blyford with its pub and thatched church gives you that remote feeling you get from illustrations of fairly tales. We did the church and then lunched at the pub, notable for its extravagantly Italian publican.
Only a mile or two from Blyford is the village of Wenhaston (pronounced Weneston or something like that) and there you will find Woottens, the finest perennial nursery in East Anglia and possibly the world. Woottens specialise in Pelargoniums, Iris and Auriculas and their handbook which is an inch thick is one of the most irresistible publications known to man.
Our next port of call was Halesworth and an eccentric but rather charming B&B; much of the décor provided by redundant signs from the London Underground. We would have got there early but for an unfortunate communication failure which resulted in the two halves of our team losing each other for half an hour in the outskirts of Halesworth.
The following day we had intended lodging in Fressingfield in order to make the most of dining at its celebrated pub, the Fox and Goose. Unfortunately the proprietors of the place where we had intended to stay had, somewhat uncharitably, taken themselves off to Australia. Plan B involved staying at Eye, inviting relations to dinner in exchange for a lift and facing a very much longer ride than usual to get to Eye in the first place.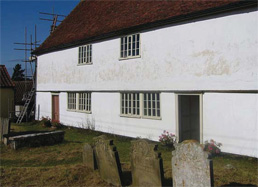 Walpole Old Chapel.
We started early, and at 10 a.m. had reached Walpole, where, having rung up in advance, we were shewn round Walpole Old Chapel, one of the wonders of this part of Suffolk. From the outside the chapel looks like a straightforward 16th century farm house (with a few grave-stones in the garden) and one gets no indication of the marvels within. In the 17th century, however, the Puritans converted it into a meeting house. The width of the house was doubled, a ship's mast installed to carry the increased weight of the roof and a gallery installed which doubled the potential size of the congregation. The chapel is now in the care of the Historic Chapels Trust, it is still consecrated and the occasional service is held there. The building has been beautifully done up and gives an extraordinary feeling of space. From the pulpit the preacher could see every seat in the building – a great disincentive to sleep.

Walpole Old Chapel Interior.
From Walpole, the road to Laxfield runs for at least a mile and a half overlooking the lake in front of Heveningham Hall. The Palladian house, designed by Sir Robert Taylor about 1778, is the grandest in Suffolk and stands on the high ground a few hundred yards beyond the lake. The ride along the road on a glorious sunny morning was breath-taking and must look just as Capability Brown visualised it when he was laying out the grounds. The whole estate is kept in wonderfully manicured order and the view deserves three stars.
Rather than take the more populous road through Laxfield we kept to the lanes and approached Stradbroke from the north passing on the way two farms where new field drains were being installed, something that I have scarcely seen for 30 years. The Lord be praised for the doubling of the wheat price!
In Stradbroke we parked our machines behind the newly painted White Hart where constant hot food was advertised. It turned out to be closed and empty of all furnishings and so we took our custom to the Queens Head where we restricted ourselves to a toasted sandwich. Reading the newspaper was a battle, as only half the light-bulbs were working. It struck me as taking energy saving too far. And so on to Eye, battling against the west wind, but cheerfully, as the next day we were due to turn south.
Visitors to Eye are drawn inevitably to the church. "The west tower of Eye church", writes Pevsner, "is one of the wonders of Suffolk, 101 ft tall and panelled in flushwork from foot to parapet". All bicyclists should also go inside if only to see the rood screen and loft which has been fully restored and is the only complete one in Suffolk. There are some rather charming naive paintings at the base of the screen done circa 1500. "All bad" says Pevsner.
Having located our B&B and rested awhile we duly got our lift to the Fox and Goose at Fressingfield, which was packed and lived up to its reputation. Both food and service were quite excellent and we found we were on terms of easy familiarity with our waitress, who had been drafted in from the pub at Stradbroke, where she had given us our lunch-time sandwich.
Kippers for breakfast the next morning and a lengthy farewell from our hospitable landlady followed by another beautiful ride, this time along the valley of the Dove to Thorndon. Our objective there was the Hen House Garden Company, manufacturer of gorgeous, brightly painted, romantic hen houses. A Must Have for any hen keeper, or if one has no hens one might consider living in one oneself! We inspected not only the hen houses but the endless variety of hens that might live in them. A thoroughly entertaining morning (for hen lovers anyway), and we then repaired to the pub and ate mussels.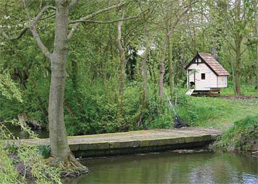 Romantic hen house from
The Hen House Garden Company.
Having battled against the west wind all morning it was a relief at last to turn east and with the wind in our backs we made good time to our next lodging at Monk Soham – a fantastic place in the middle of nowhere. No sooner were we under cover than the heavens opened for the only time during the week. We felt smug.
The church at Monk Soham has no particular pretensions and doesn't make it into the 1000 Best Churches, but I thought it stunning. The huge east window fills the entire east end and floods the church with light, there is also a seven sacrament font and a hammer beam roof. In medieval times Monk Soham was used as a retreat for monks from the abbey at Bury, (some say as a place of correction for those who had stepped out of line). As one leaves the churchyard to the right of the gate, there is a large modern memorial to a certain Ronald Creasey. The inscription is worth reading – it lists Mr Creasey's modest achievements as a councillor, prospective parliamentary candidate etc and goes on to say something of his beliefs. He was apparantly a pantheist, so it is curious that he should be buried in a C of E churchyard. What the memorial does not say is that Mr Creasey is chiefly remembered for being a prominent member of the British Union of Fascists!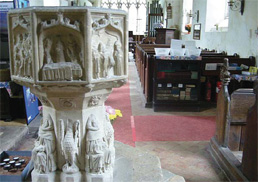 Monk Soham Church – The Seven Sacrament Font.
Having set off next morning in the direction of Framlingham we reached Saxstead Green at about 11.30 and hung around till midday for the keeper to open the post mill. Not only is the entire mill open to the public, but you can go up the immensely steep outside staircase to the second storey and if the wind changes then the fantail attached to the staircase causes both staircase and mill to rotate. How unusual in these dreary times to find something exciting and dangerous that Health and Safety haven't yet put a stop to. The sails were rotating slowly, creaking the while and causing quite a bit of movement in the upper half of the mill. We were left alone to explore – thrilling.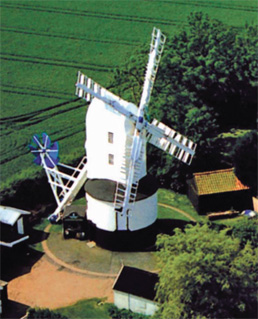 Saxtead Green Post Mill.
It is only about two miles from Saxstead to Framlingham and having arrived, we tethered our bikes to a hitching post and had lunch in the vast old-fashioned pub overlooking the square. Afterwards we went up to the castle which consists almost entirely of curtain wall with a nice grassy space inside and a good view of the lake below with the rather fine red brick of Framlingham College beyond that. There was no one at the receipt of custom so we wandered around free of charge, but in truth there is not much to see.
This was to be our last night on the road, so we set our compass for our final B&B at Sweffling, and rode along the Alde valley in bright sunshine through beautifully kept countryside and with a complete absence of traffic. Having arrived at Sweffling we turned down a lovely side valley and ended up at an enormously attractive and upmarket house whose proprietors, we realised with alarm, clearly had no need to earn a few extra pennies from B&B. Luckily they weren't there, so our blushes were spared and we retreated in good order. Since we had followed our instructions to the letter, we were now very obviously lost and had no alternative but to ride off in all directions. This was not a particularly successful strategy and having regrouped once again, I found to my embarrassment that our destination was in fact marked on the map. It turned out to be a typical long Suffolk farmhouse at the end of a rather impressive drive. Inside was a scene of considerable chaos. Our host, who had given us our directions back to front and to whom I had spoken several times on the phone, was expecting only two of us and proposed turning out of his own bedroom to accommodate the others. As several other travellers and a visiting dog were also resident, it was necessary to do things in relays. In the background were 15,000 hens and a very considerable quantity of flies. Having failed to book a taxi to take us to supper at the time we wanted, our host generously agreed to give us a lift to the Crown at Glemham, a journey which seemed likely to be our last as we careered wildly along the verges of an exceedingly
narrow road. However the dinner was good and we found alternative means of getting back home. The next morning we left, by our standards, very early.
With plenty of time in hand we decided to go to Dunwich and see if it really had fallen into the sea. We stopped enroute for coffee at the pub at Middleton but were too early as it was not yet opening time. Instead we went into the church which turned out to be a good move. Southdown sheep grazed the churchyard, causing us to wonder why more churches don't do the same and save the mowing. The church roof used to be thatched, but when the spire, (which is very small and made of lead), was being repaired in 1955 the roof caught fire and most of the church was burnt. The parishioners rushed in and saved the bulk of the contents so surprisingly little damage was done.
Once in Dunwich, we had lunch at the Ship, the only place during our tour where we saw any tourists. But of the fifty or so churches, convents and monasteries said to have adorned Dunwich in the 14th century, there was no trace. Further to a good pint of Adnams, I fell off my bike on leaving the pub and, as I sprawled in the gutter, a couple of pitying eighty-year-olds enquired if I was all right. This seemed a suitable moment to return to Messrs Byways and we never did see the sea.
JEREMY HILL