GARDEN VISITS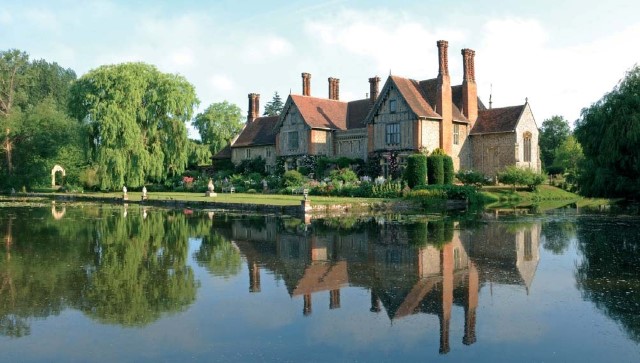 Elsing Hall is thought to have been built in about 1470 on the site of an even earlier house; possibly 11th or 13th century. It is surrounded by a working moat and the remains of old fortification walls, a corner tower and a gatehouse are still visible today. The modern day gardens were established in the 1980s by Shirley Cargill. Shirley had a particular love of old English roses and a multitude of varieties are still present to this day, many giving off truly marvelous scents. The current owners arrived in 2006 and, whilst respecting the wonderful legacy of Shirley Cargill, have slowly developed the gardens to their current state. Some new features have been introduced and other modifications made. The moat has been cleaned out to restore it to its former glory, providing a magnificent setting for the house and gardens. A mound has been constructed out of some of the sediment from the moat and planted with Lonicera Nitida with a spiral path. A new peony parterre has been created and the Victorian greenhouse restored. In addition much new planting has taken place giving interest from early Spring right through to the Autumn.
Corpusty Mill Garden covers five acres by the River Bure in Norfolk.
It has evolved slowly since the 1960s and is in a blend of styles both formal and romantic with lush planting. One of its features is a series of Follies – a Grotto, Gothic Tower and Classical Pavilion, and water features prominently throughout the garden in ponds, a lake, streams and fountains.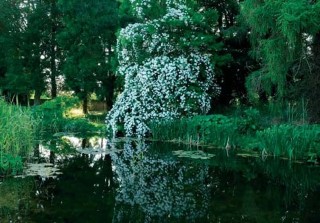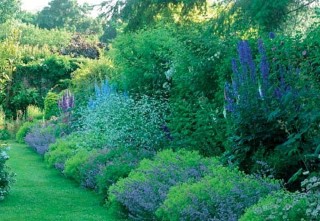 It has appeared in many books and articles. The water mill at Corpusty stands on a very ancient site, as a mill was recorded here in the Domesday book. Dates of the current buildings range from the 17th to the 19th centuries.
A small garden existed here in the 1840s but it was not until the mid-1960s that the present garden began, on what then was a level and virtually treeless site. All the design work. planting and upkeep was carried out by John and Roger Last. A complex sequence of spaces was created to one side of the house; a main lawn with herbaceous planting with pools, a woodland garden, a water garden, a walled formal Mediterranean garden, and a contemporary rill garden. Those spaces were further enhanced by the design and building, again by John and Roger Last only, of several distinctive buildings, some of them follies; a gothic arch, a domed pavilion, a flint bridge, a gothic ruin and a notable dark and mysterious four chambered grotto. The whole garden was then bordered by a tall and long flint wall, internally decorated with heads of Roman emperors set into roundels.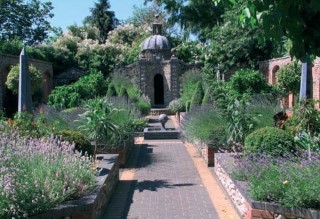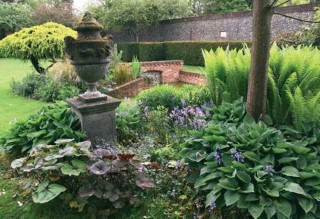 After the death of his brother in 1990, Roger Last has continued to expand the garden, which now covers five acres. Two landscaped meadows have been added, one with a small lake and a contemporary folly, a twenty foot high stainless steel spire, and here too is a cascade. The other landscape meadow has sculpture, a pool, bridges and a surprising and hidden viewing platform. Both meadows are bounded by the River Bure, and water plays an important part in the garden design as a whole. The planting throughout the garden's three distinct sections is lush and knowledgeable, and the number of trees here in what was a treeless site is remarkable. Many consider this to be one of the most original contemporary gardens to be found in Norfolk and beyond.
Garden Visit 2016
I know this is a long way ahead, but I have provisionally booked to go to Coton Manor, Coton, Northants, and Cottesbrooke Hall, Northants, on Wednesday 15th June 2016. If you Google both these gardens, they will come up. I have no costings at this stage, but do not imagine it will be much different to this year.